Find Job Candidates in Portland
Want to grow your team? Adding job listings to various job boards and free job posting sites in Portland, Oregon, is essential.
But, there is another crucial step.
Design well-optimized job descriptions.
Check out the following questions for a more convenient process!
What sort of work do you have available? Is it full-time or part-time employment?
Do you require a person with a particular level of education?
What skills are you looking for in the future employee?
Answering these and similar questions could help you seize the attention of suitable job seekers for your company in Portland.
After you finish this step, start adding job listings to various job boards in Portland, OR, or pick an ATS to do it for you.
Let's check out more hiring resources and help you find your next hire! 🙂
How to find job candidates in Portland?
Explore job posting sites in Portland, OR. It's good to post jobs locally to attract job seekers. But, don't forget about global job platforms, as these can also help you connect with job applicants.
Get info about the upcoming job fairs in Portland, OR. Local job expos could assist you during your hiring journey. Hence these events present a convenient opportunity to discover and meet local job seekers.
Optimize before posting. Job posting optimization is essential for hiring success. Well-optimized postings have greater chances of good visibility in the search results. Therefore it's vital to prepare your job listings before posting them. We'll be getting into details about this later today!
Job Posting Sites For Employers in Portland, Oregon
| | |
| --- | --- |
| | |
| | This job board allows employers to post jobs in their local community. The job posting prices start at $79 for a 45-day job posting. There are also job packages available for multiple job posting options. |
| | This job platform offers various handy job posting benefits for employers. Listings are visible for 30 days, and the site also adds posted jobs to an email newsletter and social media. |
| | This job board connects employers with job seekers. Both profit and non-profit organizations may use this employment site to post jobs. |
| | These local online publications have a job posting section where businesses may post advertisements. The site offers three pricing options: Standard $400, Performance $450, and Proactive $575. |
| | Job ads from businesses in Oregon can be found on this network. The costs range from $275 to $2,500. Employers may also utilize the Featured Tag option ($95-$475). |
| | This website offers free job posting options via iMatchSkills. Employers can also create their recruitment plan on WorkSource Oregon. |
Where to Post Jobs in Portland?
Indeed – Indeed offers many advantages for businesses. One of them is the free job posting service. Employers may reach a large number of potential candidates with employment postings. Also, sponsored jobs enable you to get more exposure in search results.
Monster – Monster is a robust global job board that connects employers with people globally. You may advertise job openings on Monster's website and reach out to potential employees as an employer. Employers can discover suitable applicants for open positions through Monster's CV database.
ZipRecruiter – ZipRecruiter is a popular job board that provides hiring-friendly features. During a 4-day trial, employers may post jobs and try out the software for free.
Employment Statistics
The median household income in Portland, Oregon, is around $53,230, and the current unemployment rate is 6.9%. The recent job growth is 0.9%, and the future job growth prediction (next ten years) is 42.4%.
The minimum hourly wage in Portland, OR, is $14.75.
Portland Job Posting FAQs
Where can I post my job for free in Portland?
Various free job boards can come in handy during your hiring process. Sites like Learn4Good, Indeed, and WorkSource Oregon offer free job posting options for employers.
How can I promote my job in Portland for free?
Use the company's social media platforms to promote your job openings. This might be a fast and inexpensive method to publicize your open vacancies. Another benefit of this is that you have a chance to meet new followers and connect with current ones.
What is the job outlook in Portland?
The recent job growth in Portland, OR, is positive ( 0.9%), and the future job growth prediction in the next ten years is 42.4%. Regardless, labor market information constantly varies, so employers should keep track of these changes and adjust their hiring process.
What do job candidates expect from employers in Portland, Oregon?
Aside from providing precise job descriptions, consider another essential thing.
Job seekers want to become a part of well-nurtured company culture.
So, strive to create a positive working environment and show applicants why they should join your team!
Is it hard to find talented job applicants in Portland, Oregon?
Finding skilled individuals might sometimes be challenging.
However, a few methods that may help you streamline your hiring procedure.
Creating a talent pool is an excellent method.
Active recruiting may help you find a suitable applicant for your open positions.
How long does it take to fill a job in Portland?
Hiring duration isn't set in stone. It varies from firm to firm, and various factors influence it.
The best part?
It's possible to make the hiring process a little shorter.
For example, an applicant tracking system might automate your hiring and allow you to avoid manually keeping track of prospects in spreadsheets.
It may just save you time and money!
Where do small businesses post jobs in Portland?
Small businesses frequently advertise for employees on a variety of websites. Online job boards, social media sites, and their own websites are the most common locations.
However, if you need some job platforms to get you started, here are a few examples to help!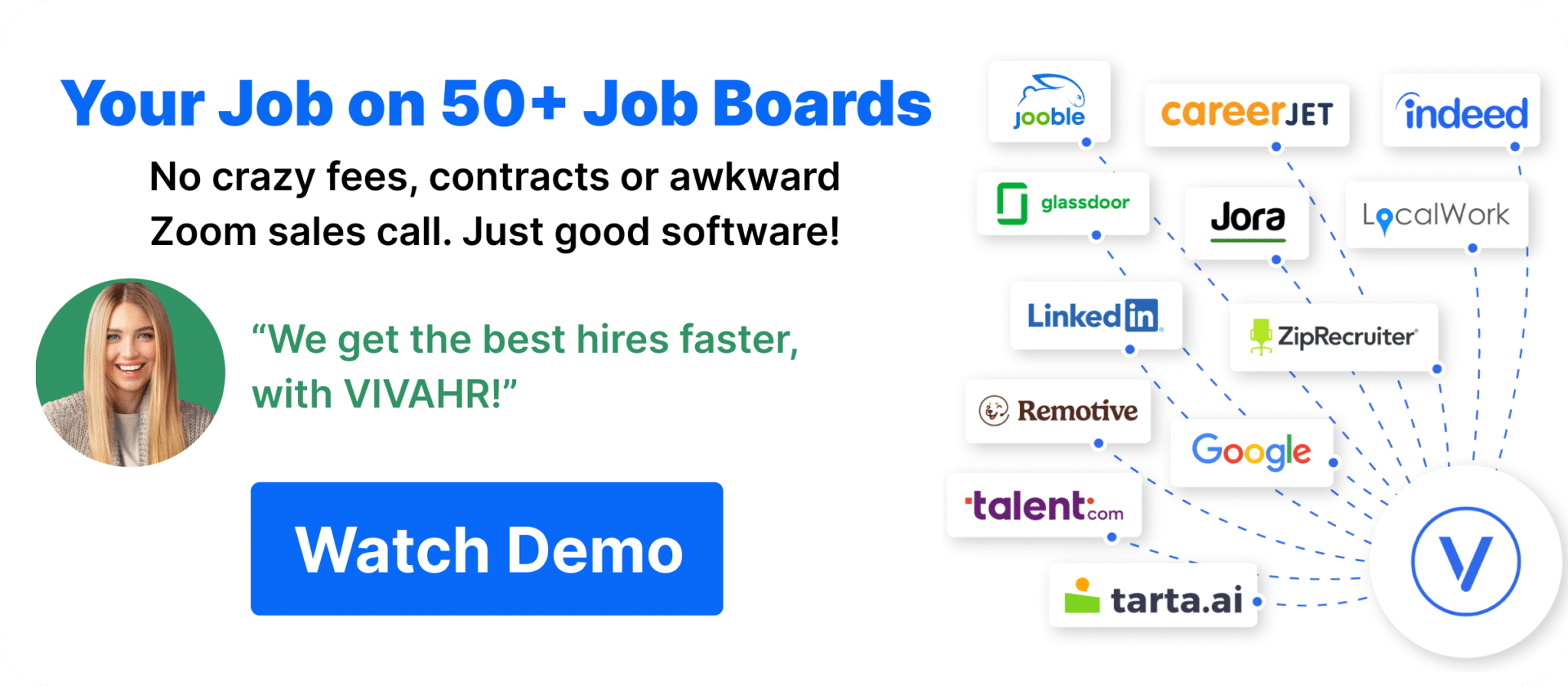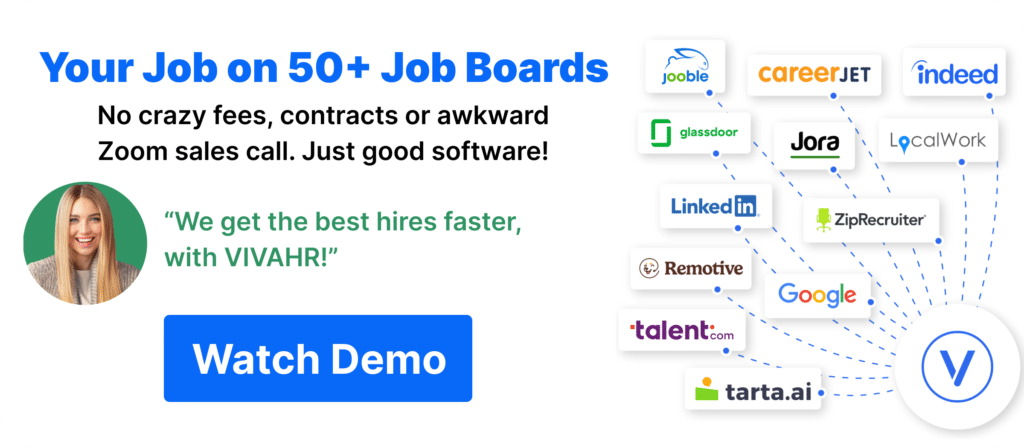 Job Fairs in Portland
Did you know that job fairs can be beneficial for employers and employees?
A career fair is a fantastic method to meet with possible individuals in-person and get a feel for their skills.
Job fairs can also help businesses save time and money during the hiring process.
Here are some more advantages of attending a job fair!
Spread brand awareness
Budget-friendly
Discover industry trends
Networking opportunities
A place to meet with job seekers in real-time
What Job Fairs are there in Portland?
If you are seeking some job expos in your area, check out the list of the upcoming job fairs in Portland, OR.
Tips to help a business find and hire employees more efficiently in Portland
Your company is one-of-a-kind. This implies your recruiting process is as well.
Every business has its own strategies for hiring, so it's always worth looking for new ideas to make the process more efficient.
Here are some ideas to consider!
How to Optimize Your Job Board Posting to Attract Job Candidates in Portland, Oregon
Before submitting your job listings to job boards, optimize them.
In other words, well-optimized postings might result in higher applicant conversions.
So, have a look at some of our job posting optimization suggestions!
Tell them about your company's mission. Describe the culture of your organization. It's no secret that candidates want to be a part of successful business cultures. Talk about your company's objectives and employees, and encourage job seekers to apply!
Add structure to job postings. Make sure your job descriptions are correct at all times. To describe the requirements and responsibilities of a position, use relevant keywords and bullet points. Looking for more inspiration? Check out our FREE 350 Hiring Resource Templates!
Provide information on how to apply for your open posts. Let people know how to apply for your current openings. You could utilize your company's website as a starting point for faster navigation. Connect a job ad to the company's Career/Jobs section of its website, for example.
Select your ATS. During the recruiting process, you might want to use applicant tracking software.
That's where VIVAHR comes in! We developed intelligent software. It can post your job openings to 50+ job sites and find A-Players for your company.
If you're weary of surfing around for job posting sites in Portland, OR, on your own, give us a try.
Use our easy-to-use and affordable ATS to see how it works! 🙂
Related Job Posting Sites in Oregon
More Regional Job Boards Around Oregon