Thursday, September 7th, 2023
The labor market has remained remarkably tight and challenging when it comes to finding suitable employees. This ongoing struggle has prompted companies to adopt various strategies in order to locate individuals who possess the necessary experience and are the perfect fit for their organizations, all while keeping costs under control. Fortunately, there is a solution that can significantly aid in this endeavor – maximizing the utilization of job boards. By taking advantage of free job posting sites, companies can showcase their job openings to a large pool of potential candidates actively seeking employment. The most advantageous aspect of these platforms is that they do not require any upfront payment or credit card information.
When it comes to the best job boards that offer free job postings, there are options available that do not require the use of credit card details, making the process even more convenient. However, it's worth noting that certain free job posting tools may offer trial periods during which employers can post jobs without incurring any charges, but a valid credit card may be required to initiate the trial.
In today's competitive labor market, casting a wide net is crucial to attracting the attention of qualified candidates. Posting job openings on multiple job boards can significantly increase the visibility of your job advertisement and enhance the likelihood of finding the right talent. Free job posting sites offer an economical solution for companies looking to expand their candidate pool without straining their budget. By utilizing these free job posting sites, employers can tap into the active job-seeking community that frequents these platforms, maximizing the chances of connecting with potential candidates. The wide reach and accessibility of these websites enable businesses to target a diverse range of job seekers, ensuring a broader spectrum of talent is considered for each position.
In certain cases, however, companies might come across free job posting tools that offer additional features or extended reach through trial periods. These tools may require a valid credit card for verification purposes but typically do not charge any fees during the trial. Such opportunities can be advantageous for businesses seeking extra visibility or advanced functionalities during their recruitment process, as they can test the waters and evaluate the tool's effectiveness before making a financial commitment.
How to get the most candidates from free job posting sites?
Pro Tip: To access the most free job boards and get your job seen the most, you should consider publishing through an Applicant Tracking System.
Applicant tracking systems already have direct access to top job boards and save you a tremendous amount of time. With one-click you can auto-publish to dozens of job boards and get organic (free) visibility on all their job posting sites. (See our list of the best Applicant Tracking Systems)
Free posting sites and free job boards allow employers to post jobs for free to create a win-win environment.  Often times the job board is going to make money on up sales, ads, and data.
The more jobs on their free job board, the better the traffic can be from search engines.  Often times there will be limits to the duration of the free job postings, but free is free, right?  Even if a job posting is free for 7 days, it's much better than the premium fees you may pay on other sites.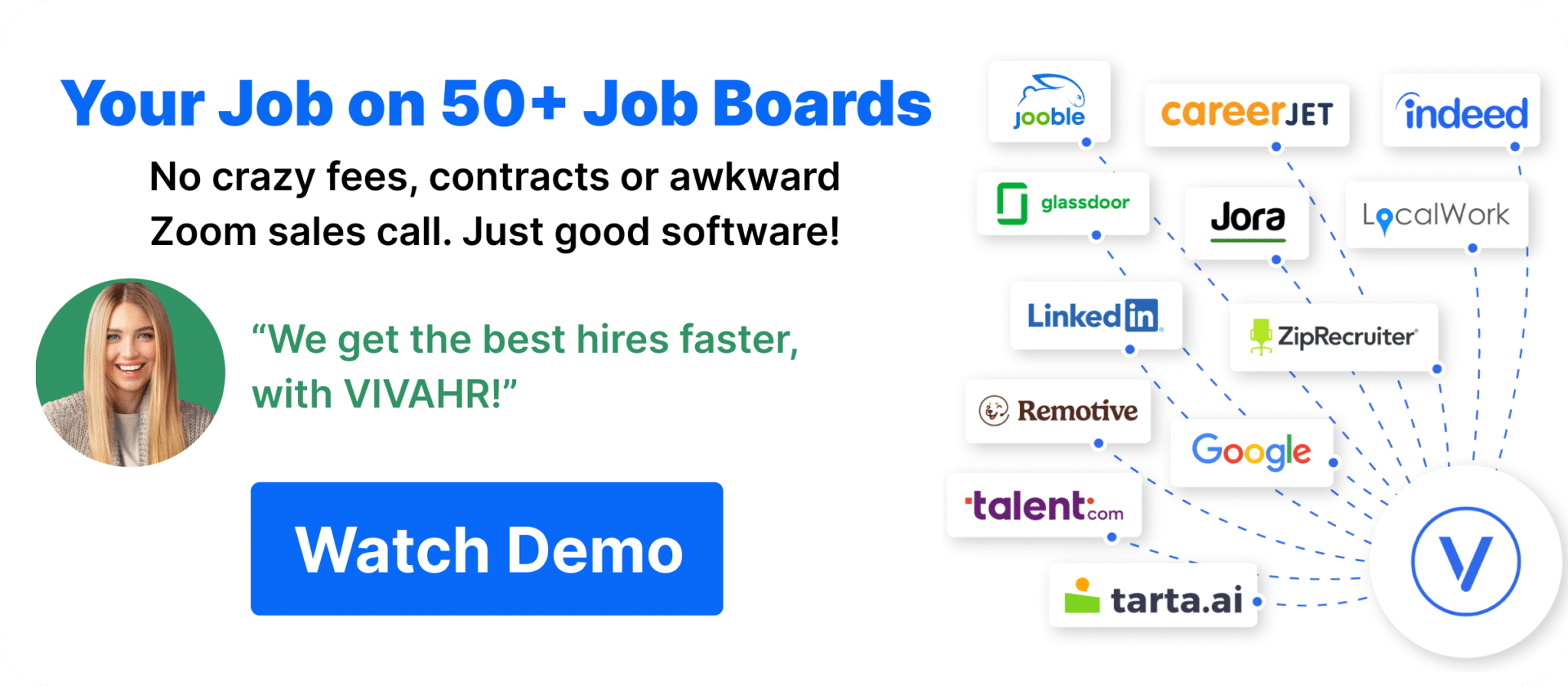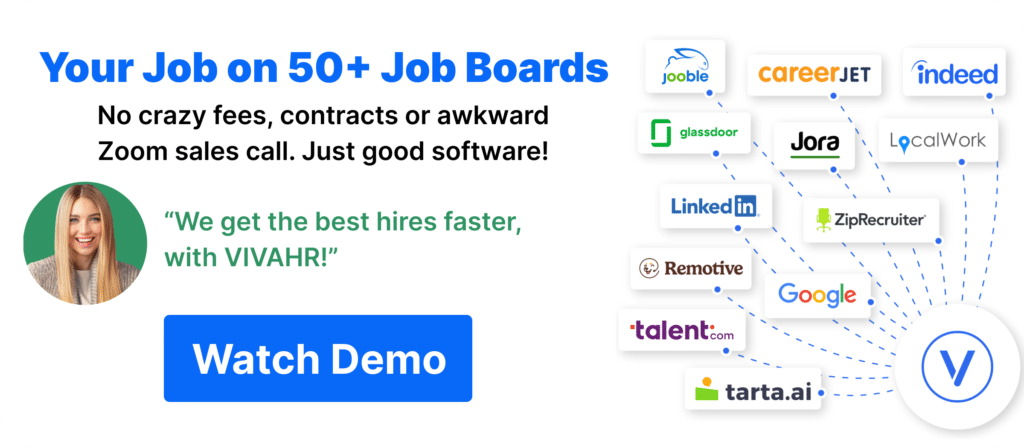 Free Job Posting Sites:
Best for culture-driven hiring.
VIVAHR is not just another job board; it's a tool that promotes the essence of a company's culture. By offering customizable templates and dynamic job postings, it provides businesses an avenue to portray their core values, mission, and what it's truly like to be a part of their team. This resonates with potential candidates who are looking not just for a job, but for a workplace where they can truly belong.
The platform's collaborative features enable hiring teams to seamlessly come together, discuss potential hires, and streamline the selection process. Moreover, its analytical insights shed light on the source of the best candidates, enabling data-driven decisions in recruitment strategies.
Pricing: VIVAHR offers a 7-day Free trial option. There are also three pricing plans for employers who want to experience more enriched hiring without spending a fortune.
Get 7-days for free HERE
Best for workflow integration.
SquareHire is not just about listing jobs; it's about integrating the entire hiring process into one seamless workflow. From the moment a job is posted to the point a candidate is hired, SquareHire ensures every step is interconnected. Its user-friendly interface, complemented by features like calendar syncing and email integration, ensures no communication gap exists between employers and candidates.
One standout feature is its resume parsing capability. By automatically scanning and categorizing information from resumes, it speeds up the review process, allowing employers to focus on the most fitting candidates.
Pricing: To fully experience the suite of tools SquareHire offers, businesses might need to move past the free trial and choose one of their subscription plans, tailored for different hiring needs.
Best for startups and tech talent.
Wellfound, with its roots in AngelList, remains a sanctuary for startups. It's a platform where innovation meets talent. Startups, especially in the tech domain, can find passionate individuals ready to embark on a challenging yet rewarding journey. Beyond job listings, it offers networking opportunities, connecting startups with potential investors, mentors, and partners.
The platform's layout is clean and intuitive, ensuring that startups, even those without a dedicated HR team, can navigate and utilize its features effectively. The emphasis on startup culture, equity, and mission-driven roles make it distinct from other job boards.
Pricing: At its core, Wellfound aims to support budding startups. Thus, it offers free job postings. However, for added visibility or specialized features, there might be associated costs.
Best for local job search.
In an era of globalization, LocalWork.com brings the focus back to community-driven hiring. For businesses that thrive on local talent and community engagement, this platform is invaluable. It provides employers with tools to showcase their local presence, emphasizing the benefits of working in close-knit communities.
The platform is not just about job listings; it's about stories, testimonials, and videos that highlight company culture and the local environment. This multi-media approach gives potential candidates a vivid picture of what to expect, making the decision-making process more informed.
Pricing: LocalWork.com understands the varying needs of businesses. Hence, while it does offer free basic job postings, for those wanting a more immersive and dynamic listing, premium options are available at different price points.
Best for global reach.
Boasting one of the world's most expansive free job databases, Jobvertise provides employers with unparalleled reach. The platform prides itself on accessibility, allowing businesses of all sizes to tap into a diverse pool of potential hires spanning various industries and geographies.
Its user-friendly interface ensures that even businesses without a dedicated recruitment team can seamlessly list jobs. One of Jobvertise's significant features is its robust resume search functionality. Employers can proactively scout for talent, delve deep into candidate profiles, and reach out to potential hires, giving them the upper hand in the competitive hiring market.
Pricing: Jobvertise's primary draw is its free basic service which includes unlimited job postings and resume searches. However, to leverage advanced features like premium job listings or comprehensive resume access, employers would need to consider their premium plans.
Merging the dynamics of a social media platform with traditional job listing functionalities, JobCase has carved a unique niche in the recruitment sphere. It's not just about connecting employers with potential hires; it's about building a supportive community. This platform provides a space where job seekers share their experiences, offer advice, and encourage each other.
For employers, this translates to tapping into a pool of candidates who are not just looking for a job but are actively engaged in their career journey. The community-driven approach allows businesses to gauge candidate sentiment, understand the job market from a seeker's perspective, and tailor their listings for maximum resonance.
Pricing: True to its community spirit, JobCase does offer free job postings. However, for businesses aiming for enhanced visibility and deeper engagement with potential candidates, premium listing options are available at varied costs.
A social network that also has job postings for the blue-collar industry
Best for effortless global visibility.
Originating in Australia, Jora has expanded its wings globally, offering employers an expansive canvas to paint their job listings. Its strength lies in its simplicity. A straightforward interface, coupled with a powerful search algorithm, ensures that the right candidates find the right jobs.
Employers can also benefit from Jora's tie-ups with other job search engines, amplifying the visibility of their listings. Moreover, its dashboard provides useful insights into listing performance, candidate interactions, and application rates, helping businesses refine their recruitment strategy.
Pricing: Staying true to its mission of accessibility, Jora permits employers to post jobs for free. Yet, to guarantee the maximum reach and visibility, they also propose sponsored listings, available at an additional fee.
Best for industry-specific targeting.
US.Jobs is more than just a job board; it's an ecosystem of niche job channels. Its diversified approach ensures that job listings aren't lost in the noise but find their relevant audience. Whether it's healthcare, tech, or arts, the platform's specialized channels cater to varied industry needs.
An intuitive search engine, combined with company branding tools, ensures that employers can craft compelling narratives around their listings. The candidate experience is further enriched with insights into company culture, role expectations, and growth opportunities.
Pricing: US.Jobs offers a 7-day job posting for free. While basic job listings might be free, for a more targeted approach and enhanced features, premium options come at varied price points.
Best for telecommuting and flexible job opportunities.
FlexJobs has carved a niche for itself in the realm of remote and flexible job opportunities. With the changing landscape of work culture, especially post-pandemic, FlexJobs has become a beacon for employers and job seekers looking for non-traditional work arrangements. Its dedication to vetting and screening jobs ensures that the platform remains scam-free and focused on quality.
For employers, this translates to attracting candidates who are specifically looking for flexibility, whether it's remote work, part-time roles, or freelance opportunities. This focused audience ensures that job listings resonate with the right crowd, increasing the chances of fruitful hires. The platform also provides resources, articles, and webinars to assist companies in navigating the nuances of flexible hiring.
Pricing: While FlexJobs promises a curated experience for job seekers, it does come at a cost for employers. There's a fee for listing a job, ensuring that only genuine and quality-focused employers utilize the platform, thus maintaining its premium stature. 
Postjobfree
Best for rapid job postings with widespread visibility.
As the name suggests, PostJobFree offers a quick and cost-effective way for employers to list their vacancies. The platform aims to democratize the job listing process, ensuring businesses of all sizes get a fair chance at attracting talent. Its minimalist design and intuitive interface ensure a seamless experience.
Beyond basic job listings, PostJobFree also offers distribution services, pushing job posts to multiple job boards and increasing their visibility. This amplification ensures that even with a single post, employers can reach a diverse and widespread audience. The platform also provides tools for resume searches, enabling proactive hiring.
Pricing: At its core, PostJobFree offers free job listings. However, to maximize reach, ensure top placements, and access premium features, there are tiered pricing options available to suit
Upwork
Best for connecting with a global freelance talent pool.
Upwork stands tall as the premier platform for freelance and project-based roles. Its global reach ensures that employers can connect with freelancers from diverse backgrounds and skill sets. Whether it's a short-term project or a long-term contractual arrangement, Upwork provides the tools to facilitate collaboration.
The platform incorporates a bidding system, allowing freelancers to propose their rates and services. For employers, this ensures competitive pricing and a chance to assess multiple candidates before making a decision. Upwork's in-built communication tools, escrow payment system, and feedback mechanism make the entire hiring process transparent and secure.
Pricing: Posting a job on Upwork is free. However, once an employer hires a freelancer, Upwork deducts a service fee from the payment made to the freelancer. Additionally, there are premium plans for employers that offer enhanced features and dedicated support.
Best for blue-collar and skilled trade job opportunities.
Jobr stands as a testament to the importance of skilled trades and blue-collar jobs in the economy. Recognizing the often-underrepresented segment of workers who are the backbone of many industries, Jobr provides a dedicated platform where employers can tap into a rich pool of experienced and skilled workers.
The platform is intuitively designed, ensuring employers can list vacancies with specifics—whether it's construction, plumbing, electrical work, or any other skilled trade. For job seekers, Jobr offers a space where their unique skills are valued and sought after. With its easy-to-use interface and a focus on quick matches, it ensures that job seekers and employers find the right fit swiftly.
The commitment to this niche audience ensures a streamlined experience for all parties involved, minimizing mismatches and ensuring that vacancies are filled with the right expertise.
Pricing: Jobr offers a range of options to cater to varied employer needs. While basic listings are available for free, premium options that guarantee better visibility and added features come at an additional cost.
AngularJobs
Best for specialized Angular tech positions.
As businesses increasingly rely on specific tech stacks, the demand for niche job boards like Angular Jobs has surged. Dedicated solely to Angular developers and the companies seeking them, this platform ensures laser-focused listings without the typical noise of general job boards.
For tech companies or projects that heavily rely on Angular, Angular Jobs is a boon. Not only does it ensure that listings reach the right audience, but it also fosters a community where Angular professionals can discuss trends, updates, and best practices. The platform also integrates tools for employers to showcase their tech stack, project details, and company culture, ensuring they attract candidates who align perfectly with their needs.
Pricing: Angular Jobs offers both free and premium job posting options. While the free option provides basic visibility, the paid listings guarantee premium spots, ensuring optimal visibility and engagement.
Best for unadulterated job listings without frills.
JobInventory.com, in its essence, embodies simplicity. Without the bells and whistles of some of its contemporaries, it offers a straightforward platform for job listings. Its no-nonsense approach is ideal for employers who wish to quickly list jobs without navigating through complex features.
While it might seem rudimentary, its power lies in its expansive reach. The platform ensures that job listings get adequate visibility, and its integration with other job search engines further amplifies this reach. Its simplistic design also ensures quick load times and easy navigation, enhancing the user experience for both employers and job seekers.
Pricing: At its core, JobInventory.com offers free job listings. However, for employers looking to boost their post visibility or access advanced features, premium options are available at varying price points.
Wisestep
Best for harnessing the power of recruitment networking.
Wisestep offers a unique blend of traditional job listings coupled with a robust network of recruiters. It's not just about passive job listings; it's about proactive recruitment. Through its collaborative hiring process, employers can tap into both active job seekers and potential passive candidates sourced by recruitment professionals.
The platform offers tools for seamless communication between hiring teams, ensuring a coordinated approach to recruitment. It also provides analytics and insights, helping businesses understand market trends, salary benchmarks, and the effectiveness of their listings. The amalgamation of a job board with recruiter networking ensures a more holistic hiring process.
Pricing: Wisestep offers a 7-day free trial. While basic job listings might be free, accessing the recruiter network, premium features, and enhanced visibility come with associated costs.
Best for specialized IT and tech positions.
In the rapidly evolving world of technology, having a job board dedicated to IT professionals is invaluable. Techfetch caters specifically to the tech domain, offering a bridge between IT professionals and the companies that need them. Whether you're seeking a developer, a network specialist, or an IT project manager, Techfetch provides a focused platform to meet those needs.\
One of the standout features of Techfetch is its speed in connecting employers with relevant candidates. Their claim of showcasing suitable resumes within 30 seconds of a job posting shows their commitment to efficient hiring. This is complemented by their robust search tools, allowing employers to filter candidates based on skills, experience, and other parameters, ensuring precision in the hiring process.
Pricing: Techfetch provides a 7-day free trial. While there is a cost associated with listing a job or accessing advanced features, considering its niche focus and efficiency, many tech companies see a great return on investment.
Best for effortless job distribution across platforms.
JobSpider operates on the principle of maximizing reach without complicating the process. It not only lets employers list jobs but also ensures that these listings are distributed across various partner sites and job boards. This amplification translates to a broader audience with minimal effort.
The platform is intuitively designed, allowing employers to track applications, view candidate profiles, and manage listings seamlessly. Its integration with other job boards means that listings are consistently updated and synchronized, ensuring a unified message across platforms.
Pricing: JobSpider emphasizes accessibility, offering free job postings. However, for employers seeking added features or enhanced visibility, there are premium options available, which come at a fee.
Best for tapping into niche job channels.
In the vast employment landscape, having a platform that caters to specific industries and demographics can be a game-changer. CareerCast achieves this by offering an array of niche job networks. From healthcare to finance, from veterans to diversity, CareerCast has specialized channels to cater to unique needs.
Each of these channels offers curated listings, ensuring that job posts reach the right audience, thus increasing the chances of quality applications. The platform also provides resources, articles, and insights catering to each niche, enriching the overall experience for both employers and job seekers.
Pricing: CareerCast operates on a tiered pricing model. While the costs might vary based on the niche and the level of visibility desired, it ensures that employers get quality responses in line with their investment. Job postings are only valid for 30 days.
Best for massive reach and diverse candidate pool.
With its establishment in 2004, Indeed has grown to be a predominant force in the job board industry, catering to over 250 million unique visitors every month. Its main strength lies in the sheer volume of job listings and the depth of its candidate pool, making it an obvious choice for many employers regardless of the industry.
Indeed's interface is commendably user-centric. Job postings are straightforward to create, and employers can incorporate various screening questions to filter out candidates early on, ensuring only the most qualified get through. The platform also offers an expansive resume database, giving employers a proactive approach in seeking out potential hires.
Beyond this, Indeed also provides valuable insights into salary benchmarks and company reviews. These reviews are particularly useful for potential candidates, but they also offer employers feedback on their company culture and work environment.
Pricing: Indeed does allow employers to post jobs for free, but to maximize visibility, there's an option for sponsored posts. These come at a cost but ensure the listing stays at the top, thus attracting more potential candidates.
Best for quick candidate matching.
Jobrapido, as the name suggests, is all about speed and efficiency in the hiring process. Its primary function as a job aggregator means it collects listings from various sites, simplifying the search process for job seekers. For employers, this streamlined approach means their listings get widespread visibility without the need for multiple individual postings.
One standout feature of Jobrapido is its email alert system. Job seekers can receive notifications about relevant job listings, increasing the chances of immediate application and faster hiring for employers. Additionally, its user-friendly search interface, which organizes jobs based on profession and location, ensures potential candidates find relevant listings with ease.
Pricing: While Jobrapido gathers listings from other platforms, direct postings come with a unique cost structure. Operating on a cost-per-click model, employers only pay for the tangible results they see, i.e., the traffic directed to their listings.
Best for comprehensive job aggregation.
CareerJet stands as a testament to the power of aggregation. By casting a wide net and pulling in job listings from various corners of the web, it offers job seekers a centralized platform for their search. For employers, this consolidation means a single posting can potentially reach 
audiences they might not have considered.
Delving deeper into its features, CareerJet provides a powerful search interface. Filters based on job type, sector, and location help job seekers pinpoint the exact roles they're seeking. The platform also offers tools like salary insights and trends, helping both employers and job seekers make informed decisions.
For employers aiming for global reach, CareerJet's extensive coverage spanning multiple countries and languages is invaluable. This international spread ensures that listings are visible to a diverse and global talent pool.
Pricing: CareerJet's primary function is to source listings from other sites. However, for direct postings and premium visibility, there may be associated costs. It's advisable for employers to explore the platform's current pricing strategies for accurate details.
Where to Post Jobs for Free
Building your job description on free job boards
Often times when employers get ready to post their jobs online, they will do a quick google search for 'job description templates' and copy/paste what someone else has pre-written.  Not a bad strategy, but certainly not good.  Many of the job boards have a feature built into their job posting search results to de-dupe.
This looks for similar postings that may be considered duplicate job postings.  If your template was easy to find, you copied it over and only changed the name of the company, location, and compensation, chances are you'll have a hard time getting found.  Much of recruitment marketing is understanding out job boards work.
To build the best job description, we recommend having four major components
Company Overview – this section is talking about who the company is, why they do what they do.  Give the candidate a real understanding of what your company's sandbox really looks like.
Expectations – Paint a very clear picture of what a day and a life of work will look like.  By connecting with a candidate to give them a sense of what their day will consist of, emotionally connects and gets them more engaged in the opportunity.   In this section, more is always better than less.
Roles and Responsibilities – There is a direct correlation between bullet points in job descriptions and how well they rank on job boards.  The biggest job boards have an algorithm that looks for bullet points.  Make sure you create lists and utilize six or more.
Compensation – Most companies really overlook compensation.  This is a place to shine.  It's not about just the salary or the hourly rate for the employee, it's more than that.  Millennials have demonstrated time and again they care more about culture than compensation.  So give them more than "DOE" or "Will discuss upon interview."  Tell a story about what you as a company are committed to compensating them with.  Leadership training, industry knowledge, licensing, free lunch, incentive bonuses…etc.  The list goes one.  Take the time to talk about more than just dollars.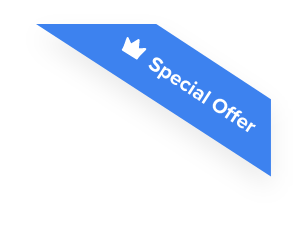 Joshua F.
Redline Electric & Solar

"The best recruiting platform on the market! VIVAHR allowed us to create a dashboard and applicant experience like no other!!"
Get more applicants from the
Best Job Boards
Post for free to 50+ job boards
Unlimited Job Postings
Unlimited Applicants

Top industry job boards to post to
Testing, reporting, and analyzing is key strategy in marketing.  The job posting is just another form of marketing.  It might not be for sales, but have very big impact on the organization.  You should be creating a list of all the major job boards that serve in your industry.  There are literally thousands of job boards.  Many of the job boards VIVAHR submit to are general job boards.
However, finding the right industry-specific job board can be a powerful way to showcase your recruitment brand against competition and steal talent from the competition.  The more niche of an industry you're in, the more valuable industry job boards become.
Using an applicant tracking system to track job posting candidates
Add the tracking URL to every job post.  Most of the job boards will allow you to add an external URL where the applicant can apply.  Be sure to not just give them the exact URL to your apply link, rather, add a UTM tracking to the posting.  VIVAHR has a free job posting tracking tool you can use (no matter which ATS you use, this tool will work).
Simply enter in the apply URL, add in the source (name of job board, department and important hiring info.  This can track traffic from each industry job board to allow you to report against quality of candidate traffic and conversion rates.
Free Job Posting Sites in USA
Getting your jobs on the best job posting sites for employers to get you more applicants couldn't be easier with tools like, VIVAHR.
Why free job posting sites
Job posting websites in the USA come under two different categories.  Most job sites will allow you to begin a trial between 3-14 day trials.  If you're looking for a completely free job posting solution, you'll want to understand any additional restrictions you may have. Some of those restrictions may include limit to number of applicants, how many locations (City, State or Zip) restrictions your job ad may have.
A few alternative options of places to post your jobs for free:
Facebook Groups – Most major cities will have a job posting group already created.  This can be a very active place to share your job opportunities.
Church Groups – Local churches tend to have very strong employment support.  This often includes a modified job board or job posting page on their website.  We have seen several customers have great hiring experiences by calling their top 5 local churches and introducing their company and hiring needs to the employment representative.
Community Colleges / Trade Schools – Many different community colleges have career boards and career support services.  These offices tend to be well connected with students and can be great resources to sending you good candidate volume.

Free Job Boards Vs Paid Job Boards
There are a number of reasons why you'd consider jumping in and paying for a job rather than posting and waiting for the free platforms to deliver.
Predictability
You know you'll be hiring many candidates over a sustained period and you can't wait.  If you're feeling the difficulty of hiring now, and you know there are more open positions coming up, it might be better to jump in and build a bank of candidates to start working through.
Competition
Based on your industry of geographic location, your unemployment rate might be some tight that there is a limited supply of candidates.  You need to think of this as urgency and pay to get exposure in front of the right audience.
Cost control
Regardless of whether you're using a free job board or a paid one, be sure to use an ATS to track the candidates so you can compare the source of each of those candidates as they come in.  It will not only help you save the time of note-taking, and collaborating, but give you better predictability of where to spend your money in the future with paid ads.  Measure, analyze, predict.
Frequently asked questions about free job boards
Can I post jobs for free on craigslist?
In the past you could post all jobs on Craigslist for free.  Over the past few years, they have started charging a fee per posting based on what market you're posting in.  The full list of cities and pricing is located here.
Many of these job posting cities have a fee of $7-75/job/category.  This can add up quite fast since your job post is pushed down daily based on newer job posts.  If I were hiring for a customer service role in Los Angeles, I may want to post this job on a Monday in 2 categories.
That would cost $150 for the day ($75 for category 1 & $75 for category 2.)  If I'm not happy with my candidates by Wednesday, I may have to post again.  Within a couple of weeks, I would be spending a couple of hundred dollars on this one job post.
Are there free job posting sites without registration?
Many of the most aggressive identity theft scams come from fake job postings.  Scammers will falsify a company's information, job posting and collect candidates' information from their resumes and use this info for identity theft.  Because of this, many websites will require you to create an account with some level of job posting verification.
This verification may be a credit card authorization, corporate email verification or sms verification.  Chances are if you are not required to verify your identity to post your jobs, the job board quality is very poor and has a low volume of candidates.
Are there free job sites to search for resumes?
There are no Free Job Posting Websites that also let you search through a resume database for free.  Many sites, including Indeed and ZipRecruiter, will let you search through a global resume database along with a paid plan.
How to manage candidates on a job board for free?
ATS stands for Applicant Tracking System.  Most job boards will include a backend to let you manage your candidates.  Although they are limited to the candidates you receive from that job board, it can be a good place to take notes, collaborate, and keep track of everything.
There are Free ATS options, which will allow you to receive candidates from all the job boards you post to.  This allows you to centralize your note-taking, compare sources based on inbound traffic, skills, and hires, as well as create custom scorecards to collaborate with other team members.
How are my jobs found on job boards I didn't post on?
You may start seeing your job posting show up on random job boards.  This is done with web crawlers who may scrape data from competitors and use their job postings to help backfill their own job board.  Previously we discussed the power of job boards having a high volume of job postings to boost their SEO marketing with a depth of content.  Your postings may be included in that web scrape process.
How to connect my ATS XML feed to post to job boards?
When you are working with a new job board to start posting your jobs, ask them if they'll accept an XML feed of your jobs.  This saves you from entering in the same data multiple times, auto included the apply now URL, and makes your life much simpler.  XML feed of job postings is a formatted feed that is categorized and labeled in an industry-accepted format to allow data to transfer automatically between multiple sites.
Are there job posting sites for startups?
There are several job posting sites for startup companies.  The most popular and highest-rated job board for startups is Angelist.com. This platform is fantastic for growing companies to get exposure in front of a tech-savvy audience who may value being a central figure in a startup over a big salary at a larger more established organization.
Why would my job get blocked on a free job site?
Keep track of all your job postings and when you start seeing candidates applying to your open positions.  If you do not see candidates within the first 3-5 days after posting your job, there are four major reasons a free job posting site would block your job from being visible.  If you feel like any of these issues are keeping your posting from being visible, you should reach out to the job posting website:
Quality – Most job boards have a standard of quality for each job posting.   If there is suspicion your job posting is fake, not providing accurate information to their job seeker audience, your job will not be approved.
Duplicate – Job posting websites are very protective of their search results quality.  You'll get your job posting blocked if it is too similar to previously posted jobs.  Ensure your job posting is accurate and authentic to your organization.
Temporary, Contract or Third Party –  Many job boards will only allow job postings from the actual company that is looking to employ the applicant.  Third-party recruiters may have trouble getting free job postings.  If your job is for a temporary opportunity, you may also have trouble getting approval.
Commission Only – There are many job posting websites that will not allow commission-only jobs.  They are looking for W2 salary jobs only.  Be sure to read through the job posting guidelines if your job is failing to load in search results for their job board.
How do I find reviews for free job sites?
There are several software review websites, however, our favorite and highest-quality review websites are software advice, G2 and Capterra.  They use a user-generated approach to collect reviews and request client verification to validate the review is honest and accurate.
On a side note, these websites offer a $10 Amazon or Starbucks compensation for reviews of software you use.  If you are an active user of any software, you may qualify for the gift card promotion for 15 minutes of your time reviewing software you're already using.
How to write a good job description?
Posting your job across the popular job boards will be limited with results if you have a poorly written job description.  There are resources on how to write a good job description that can walk you through the job posting art, to give your company the best chance at having your ideal candidate apply.  Did you know…only 5% of candidates apply to your job posting?
There are ways to boost this number 5x.  Be sure to speak highly of your company culture and your commitment back to the candidate to grow and find success in their career.
Best free job posting sites in the USA
Many of the top job boards offer an international presence, but there are several free job posting sites in USA that are geared heavily towards the job seeker traffic exclusively in the USA.  Follow our list of the best sites and be sure to take advantage of the free job description templates we have created to help you post your jobs better.
Taking your time to post your jobs to niche and local free job sites can be a great way to drive job seekers to your job ads for free or at very little cost.  This list of free job posting sites in Phoenix shows you the power of thinking outside the box when deciding where to get more applicants.  Take advantage of the alumni networks of your local community college who may offer career support to many highly qualified candidates.
Using Social Media to Post Your Jobs
Leveraging your social network and followers can be a great way to drive organic visibility to your ads.  It can be a way your current employee base can easily share these employment announcements with their network.  Facebook now allows your post to your business page to be considered a job post announcement.
With a couple of clicks, you can easily boost this post to your followers and their friends within a close proximity of your location.
Best Job Posting Sites for Employers
Every industry is going to have job posting sites that work better for employers.  Some larger job posting sites which have a global impact and a strong volume of candidates are great to post jobs to, but if you're in a niche that uses unique skill sets, chances are there are job posting sites exclusively for your industry.
If you're a technology company needing some experienced tech talent, you'd want to look at Dice.  A very niched site for tech industry.  Job posting sites for employers can be entirely about which industry you're in.  Take the time to be a secret shopper.  Put yourself in the shoes of a job seeker who would want to find a job with your company.
See which job sites come up with you're looking. The best job posting sites are not always the big job posting sites.
Where can I post a job for free?
The number of Free Online Job Posting Websites for employers is getting lower by the day.  Employers using job posting sites without registration and credit cards are also the sites fraudulent job postings tend to be located.
This surge in fraud with job postings has pressured job sites to require credit card registration when posting your jobs for free.  Often times, job posting sites in USA which are free give you the results you pay for.  As an applicant tracking system for small businesses, we highly encourage small business owners to be aware of the lower quality and exposure to your business if attracting candidates off of these sites.
Related Articles: