Find Job Candidates in Chicago
Searching for new team members to join your company? That's amazing! Check out some job boards and free job posting sites in Chicago, Illinois.
But before you take this step, consider one essential thing.
Create a well-optimized job description.
Why is this important?
A well-written job posting gains better visibility in search results and attracts more suitable job seekers for your company.
To get you started, here are some questions!
Do you want someone experienced or a newbie to join your team?
What does the job you want to post require?
What type of education would you like your potential employee to possess?
Answering these or similar questions could help you better understand your expectations from your future employee and therefore design a suitable job ad.
So, after you finish this step, post your job listing to various job boards in Chicago, IL, or let ATS do it for you.
Ready for more hiring resources? Let's go! 🙂
How to find job candidates in Chicago?
Explore job posting sites in Chicago, IL. This could be an effective way to attract suitable local job seekers. But don't neglect the potential of global job boards too!
Check out job fairs in Chicago, IL. Some employers like attending job expos and meeting job seekers in real-time. Usually, there are lists of upcoming fairs that we'll cover today.
Always optimize. Job posting optimization is a vital step in every successful hiring journey. It's an easy and efficient way to attract A-Players for your company. Stay tuned to hear more about it today!
Job Posting Sites For Employers in Chicago, Illinois
| | |
| --- | --- |
| | |
| | This job board allows registered employers to post jobs, search for potential candidates, and post a company profile. The job posting site only offers online services. |
| | This national online community connects tech and startup companies in Boston with job seekers passionate about technology. Employers can post job openings and attract applicants from the tech world. |
| | These local online newspapers offer job posting services for employers in Chicago. Companies can choose from three pricing packages: Basic $400, Advanced $475, and Premium $515. All prices are per job. |
| | This job platform offers a variety of price points for Chicago employers, ranging from $275 to $2,500. The site also provides the Featured Tag, which ranges in price from $95 to $475. |
| | This job board caters to Illinois employers. It offers free job posting options, candidate search, company promotion, resume match notifications, and support from American Job Center. |
| | This job board offers job posting options in Illinois and around the country. Employers can use candidate screening questionaries and post jobs at starting price of $79 per job. |
| | This is the same platform as the MetroChicago job board but focused on Illinois. It offers the same features and job posting options with the same pricing packages. |
Where to Post Jobs in Chicago?
ZipRecruiter – ZipRecruiter is a platform that allows employers to find candidates interested in working for their company. In addition to the ZipRecruiter job board, companies can post openings on other employment websites via this platform. There is also no cost for signing up for a four-day trial.
Monster – This job board allows employers to post job openings and discover candidates that match the requirements. The Monster job platform lets employers get a broader view of candidates' profiles and insights into their qualifications.
Indeed – The benefits of Indeed's career site extend to job seekers and employers. Companies may post employment opportunities on the site free of charge, or they may opt to sponsor these postings instead.
Employment Statistics
The median household income in Chicago, Illinois, is $47,831, and the current unemployment rate is 9.0%.
The recent job decrease is -0.2%, and the future job growth prediction (next ten years) is 25.7%.
The minimum hourly wage in Chicago, IL, is between $14.50-$15.40.
Garland Job Posting FAQs
Where can I post my job for free in Chicago?
Free job boards like Indeed and Learn4Good make it easy to post your open positions and find great candidates without spending a dime.
How can I promote my job in Chicago for free?
Use social media benefits. Promoting your open positions via the company's social networks could seize the attention of job seekers. The best thing is it's free, and you might gain some new followers down the road.
What is the job outlook in Chicago?
The recent job decrease in Chicago, Illinois, is -0.2%.
The estimated job growth prediction is 25.7% in the next ten years.
Furthermore, employers should tweak their recruiting strategies to meet the current labor market needs.
What do job candidates expect from employers in Chicago, Illinois?
You need more than just well-thought-out job descriptions to have a successful business.
Focus on building a positive company culture.
This will act as a magnet for potential employees and increase the retention rate of your current staff.
Creating an appealing working environment is essential to keeping good employees around.
Is it hard to find talented job applicants in Chicago, Illinois?
Although it might be challenging to find qualified people, it is possible.
Having a talent pool makes the process more convenient.
If you want to find candidates for open positions, try actively recruiting from your talent pool.
How long does it take to fill a job in Chicago?
The recruitment process can be complex and time-consuming, but using an Applicant Tracking System (ATS) may help reduce the time spent on recruiting.
ATS software automates several recruiting activities to save you time.
Where do small businesses post jobs in Chicago?
If you're a small business owner searching for new employees, don't worry – you have options!
Job boards, social media, and employer websites are all great places to start your search.
Check out some job board examples!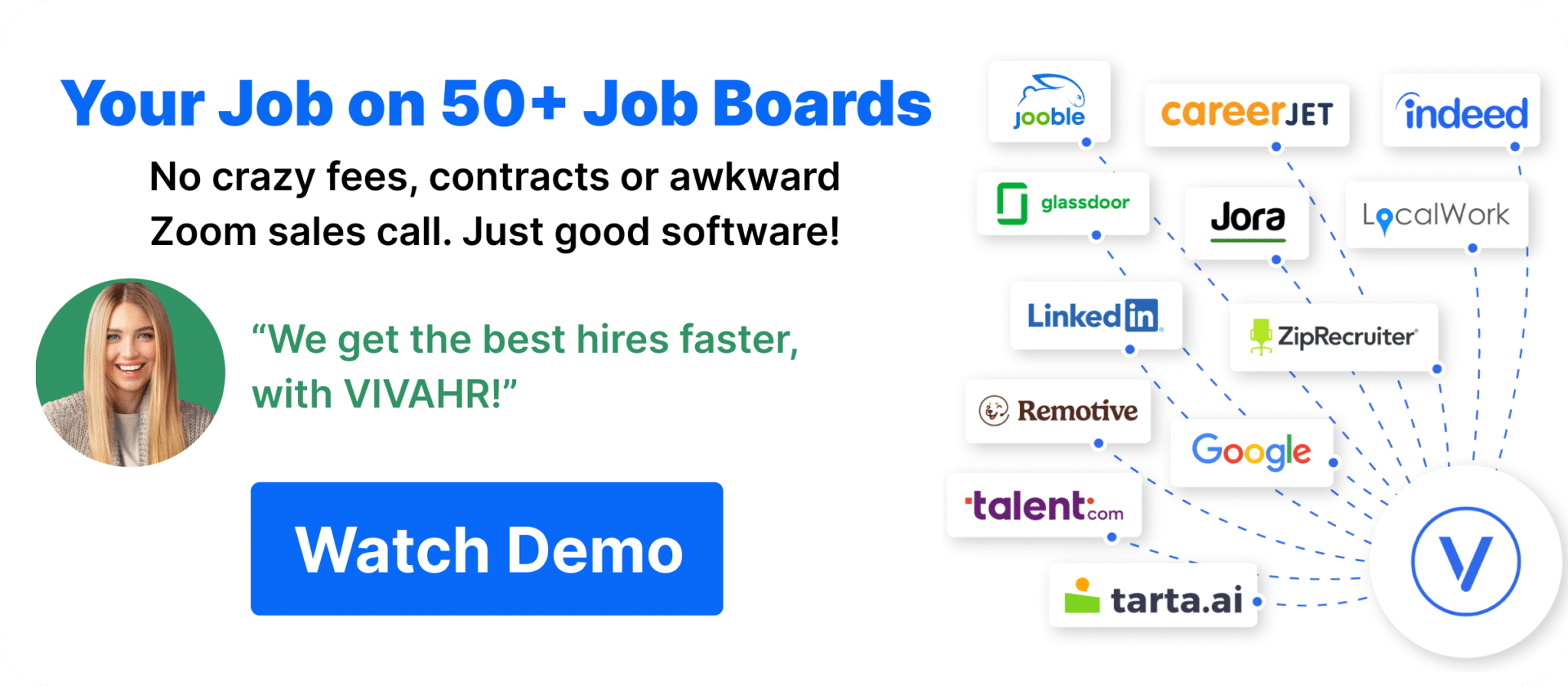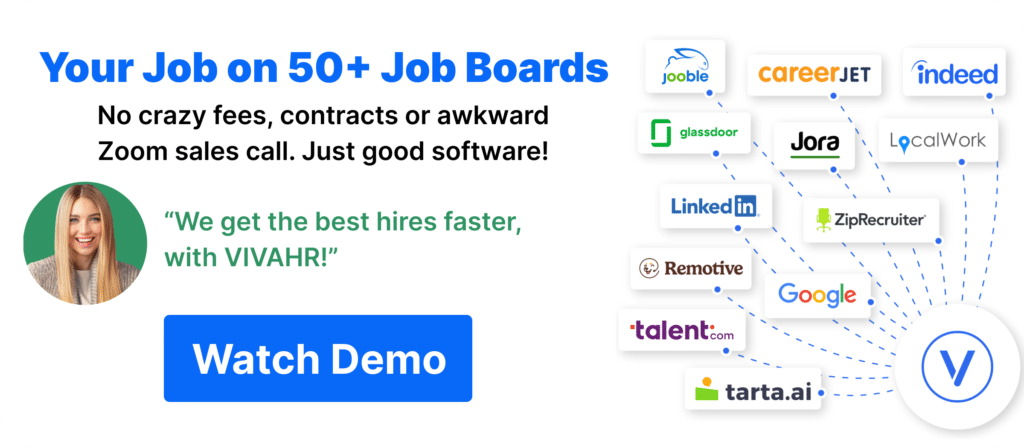 Job Fairs in Chicago
Attendance of job fairs has many advantages that companies can explore, including the ability to meet many potential workers at once.
Therefore, let's explore what else trade shows for jobs have in store!
Attending job fairs is convenient for employers to meet several potential employees simultaneously
Employers may reach out to people who seem suited for jobs they have not applied to
Job fairs improve the chances of successfully recruiting new employees
Job expos offer an excellent opportunity for companies to meet prospective employees and increase brand awareness in the community
By attending job fairs, businesses have the opportunity to connect with local recruitment companies and other organizations that can help them find candidates for open positions
What Job Fairs are there in Chicago?
If you're looking for job expos in your area, check out if there are upcoming job fairs in Chicago, IL.
Tips to help a business find and hire employees more efficiently in Chicago
If you want your business to grow, you should stay updated with new ideas.
Learning about your target audience and being creative are great ways to increase interest in your company!
Here are some additional tips for more cost-effective recruiting:
How to Optimize Your Job Board Posting to Attract Job Candidates in Chicago, Illinois
Before you post your next job ad, consider how to make it more effective.
You may be able to attract more applicants by improving your employment advertising.
Check out our recommendations for optimizing your job postings!
Share the culture. Your company culture should be expressed in every job posting to help attract the most qualified applicants. By sharing your organization's goals, you may just inspire someone to apply! Make sure to let applicants know what they would be working towards at your organization in the opening paragraph of every job posting.
Add structure. Concise and engaging job ads not only improve your chances of being seen in search results, but they're also more likely to resonate with potential candidates. To ensure your listings hit the mark, design them well and pepper in some relevant keywords. Don't forget to use our FREE 350 Hiring Resource Templates page for a little extra help!
Provide application details. Include detailed application instructions on your company's Career/Jobs website. This will make the process more fluid for candidates and save everyone time in the long run.
Choose your ATS. Finding the right team member is vital for any company.
That's why we created VIVAHR.
Our software can post your job listings to 50+ job boards and attract A-Players for your team.
You don't need to discover job posting sites in Chicago alone.
Discover a way to an easier hiring journey and try out simple and affordable hiring software! 🙂
Related Job Posting Sites in Illinois
More Regional Job Boards Around Illinois