Find Job Candidates in Burlington
Want to expand your team? That's exciting! Checking out job boards and free job posting sites in Burlington, Vermont, could be helpful.
But, before this step, consider one more thing.
Optimize and prepare your job postings before adding them to job platforms.
Check the following questions to help you with this step.
Do you want to hire an expert or a beginner?
What criteria must be met for this position?
What kind of schooling do you expect a candidate to have?
Answering questions like these could assist you in creating a precise job description that could attract relevant job seekers for your company.
So, after this step, post your job ads to numerous job boards in Burlington, or let an ATS do it for you.
Let's check out more hiring resources and find your next team member! 🙂
How to find job candidates in Burlington?
Explore job posting sites in Burlington, VT. Posting employment ads on local job boards is an effective way to locate qualified applicants. But don't forget to check out international career sites, as these might assist you in finding your next employee too.
Find out about job fairs in Burlington, VT. Local career exhibitions may be a convenient method to meet local job prospects. Usually, you'll find both virtual and in-person job fairs available.
Make sure you optimize your job postings. Job listing optimization is a vital stage in your employment process. Before putting out job advertisements, ensure they're well-structured and grab the attention of potential applicants. Stay tuned for more on this topic later today.
Job Posting Sites For Employers in Burlington, Vermont
| | |
| --- | --- |
| | |
| | This job board lets employers post job openings for free. Also, employers can create, edit, and manage unlimited job openings. This job platform offers resume searching and other helpful benefits. |
| | As the name suggests, this job board offers seven-day job posting options. The website also shares posted jobs on its Twitter account and other employment-related tools. |
| | These local Burlington newspapers offer online job posting options via ZipRecruiter. There is only an online job posting available. |
| | Members of the Chamber can post job openings on this website and connect with local job seekers. The site also offers access to the talent resume database. |
| | This local job board platform caters to Vermont residents. Employers can choose the Quick Post option and decide on the number of slots they want to post. The prices start at $199/mo. |
| | This website is intended for people looking for work in Vermont and businesses seeking to fill positions. Starting at $275 and rising to $2,500 depending on the company's needs, job advertisements can be posted here (employers may also choose the Featured Tag option for $95-$475). |
Where to Post Jobs in Burlington?
ZipRecruiter – ZipRecruiter is an employment website that caters to both job seekers and employers. It publishes vacancies on other job sites as well as its own. Employers may also give the service a go by signing up for a free four-day trial.
Monster – Monster is a worldwide job board that connects job seekers with employers from all around the world. Employers may post vacancies on the Monster website and contact job seekers. Also, businesses may utilize Monster's CV database to find potential candidates for open roles.
Indeed – Both job seekers and employers may use Indeed's job board. Businesses can post employment opportunities for free on Indeed, with the option of sponsoring them. Sponsored advertisements are more likely to appear in search results.
Employment Statistics
The median household income in Burlington, Vermont, is $42,745, and the current unemployment rate is 3.2%.
The recent job growth is 0.6%, and the future job growth prediction (next ten years) is 29.2%.
The minimum hourly wage in Burlington, VT, is $12.55.
Burlington Job Posting FAQs
Where can I post my job for free in Burlington?
You may always take advantage of free employment resources during your hiring process. The free job posting can be done on sites like Indeed and Learn4Good.
How can I promote my job in Burlington for free?
Make use of a firm's social media sites. You may help a business by utilizing its social media accounts. It's free, and you can quickly find local job seekers on social networks.
What is the job outlook in Burlington?
The recent job growth in Burlington, Vermont, is positive (0.6%). The future employment growth rate in the next ten years is expected to be 29.2%. Employers, however, should track labor market trends and adjust recruitment efforts depending on labor market changes.
What do job candidates expect from employers in Burlington, Vermont?
Job seekers are looking for a company with a positive corporate culture.
As a result, create an inviting working atmosphere and tell job applicants why they should join your team!
Is it hard to find talented job applicants in Burlington, Vermont?
Finding skilled experts might be challenging at times.
Despite this, you can test things out.
It would be good to start building your talent pool.
Active recruiting may help you locate a suitable applicant for your open positions by utilizing a talent pool.
How long does it take to fill a job in Burlington?
It's not as simple as it sounds to figure out how long you'll need to employ someone.
The good news is that it is feasible to cut down recruitment time.
An applicant tracking system, for example, may automate the recruiting process and save you time.
Where do small businesses post jobs in Burlington?
Small firms frequently submit job advertisements on many websites.
Recruitment via job sites, social media platforms, and employers' websites is becoming very popular.
However, if you're searching for a place to begin, here are several alternatives!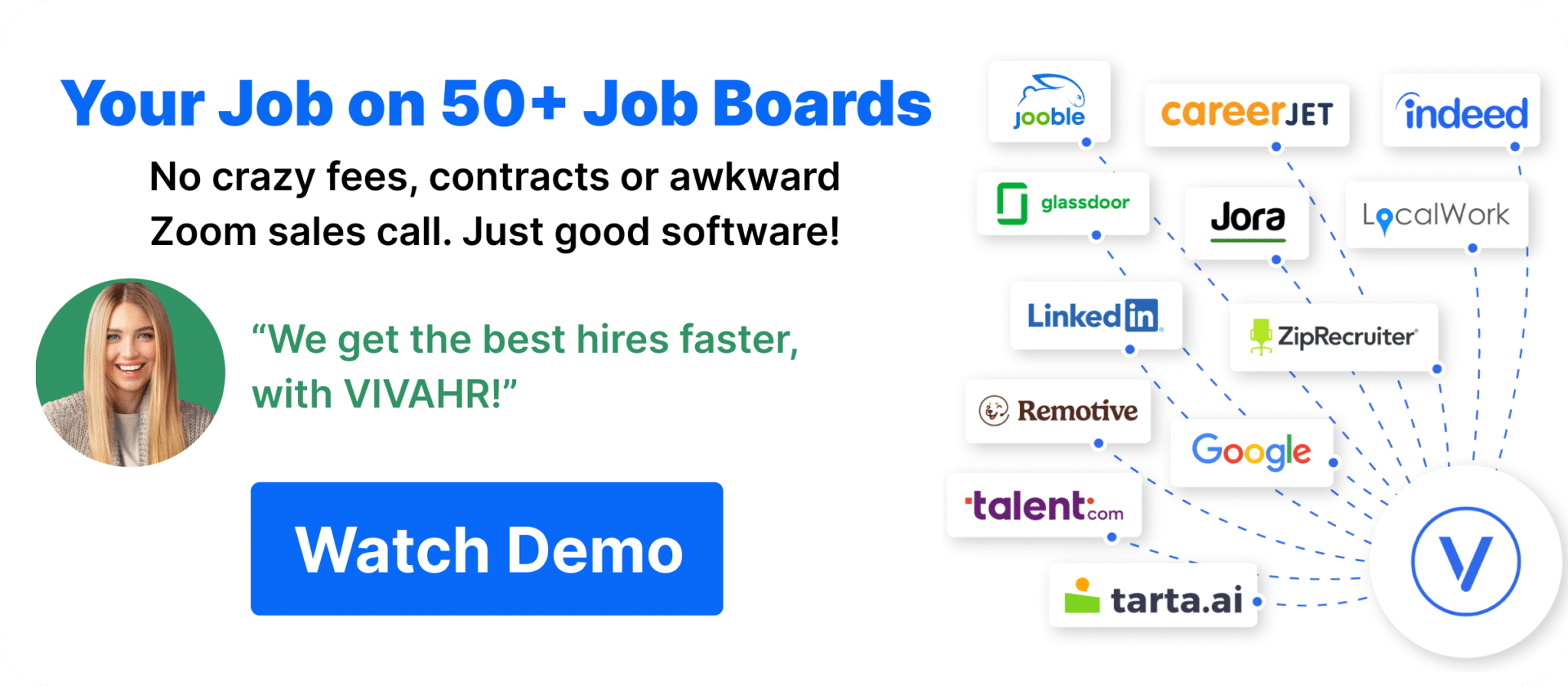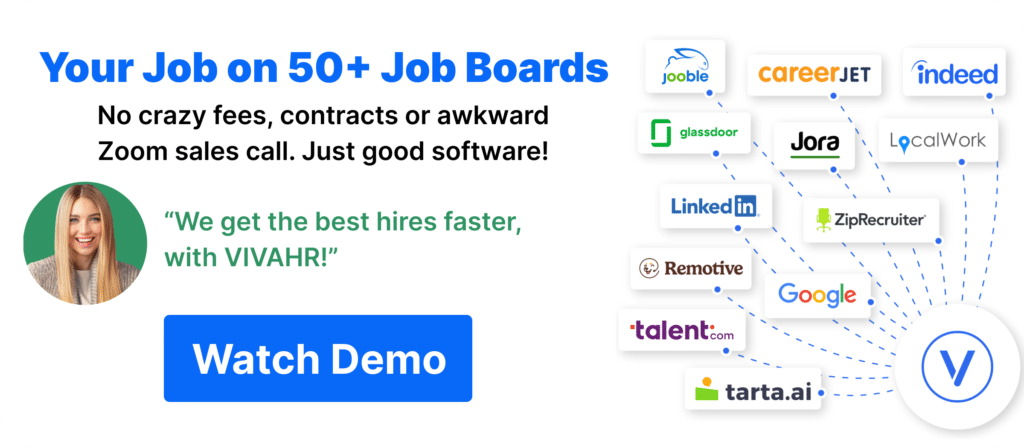 Job Fairs in Burlington
A career fair is a fantastic way to meet prospective employees and learn more about them.
During the recruiting process, job fairs may help companies save time and money by allowing them to interact directly with people interested in employment.
Here are a few more reasons why job expos are beneficial:
Give businesses a quick and easy method to deal with a large number of job seekers at the same time
Employers may reach out to suitable individuals who are not currently looking for work but are open to new possibilities
Job fairs are an excellent opportunity for businesses to learn about recent trends in the employment market and stay updated on current hiring strategies
Participating in job fairs may help companies promote their brands and cultivate goodwill among the community
Assist employers in connecting with local employment agencies and other organizations that may help them locate suitable candidates
What Job Fairs are there in Burlington?
If you're looking for job expos in your area, check out if there are upcoming job fairs in Burlington, VT.
Tips to help a business find and hire employees more efficiently in Burlington
Employers have their own strategies for coming across and recruiting new employees.
As a result, staying on top of new ideas and tactics is critical.
Here are some suggestions for getting more people interested in your company!
How to Optimize Your Job Board Posting to Attract Job Candidates in Burlington, Vermont 
Consider optimizing your job postings before posting them on job boards. A higher candidate conversion rate may be achieved by fine-tuning your job postings.
So, check out some of our suggestions for improving your listings!
Share the values of your organization. People wish to be a part of good corporate cultures that support and encourage job development. So, in the first paragraph of a job advertisement, inform interested job seekers about your company and motivate them to apply!
Structure your job advertisements. Well-structured job ads will have a better possibility of appearing in search results. Utilize precise keywords and bullet points to improve the descriptions of your jobs. This will raise their prominence in search results. Check out our FREE 350 Hiring Resource Templates to get some inspiration!
Provide information about the application procedure. Ensure job applicants are aware of how to apply for available positions. Use your company's website for quicker navigation. Link a job ad to your firm's Career/Jobs area of its website, for example.
Choose your ATS. Hiring is a thrilling experience, but it may be challenging at times. We understand the bumps down the road you're facing throughout the hiring process here at VIVAHR.
That's why we designed an intelligent ATS that posts your job listings to 50+ job boards and attracts A-Players for your company!
So, you don't have to rummage through job posting sites in Burlington alone.
Experience a more effortless hiring approach and try out simple and affordable hiring software. 🙂
More Regional Job Boards Around Vermont