Find Job Candidates in Fargo
Searching for new team members? Checking out job boards and free job posting sites in Fargo, North Dakota, could be beneficial.
However, before this phase in your hiring journey, don't forget one crucial step.
You should prepare your job listings before posting them.
Check out the following questions for some assistance!
Do you want someone with experience in the field or someone who is a newbie?
What level of education do you need from people applying for this position?
Is there full-time or part-time employment available?
Answering these or similar questions might help you compile job ads that could attract suitable job seekers for your company.
After this step, post your job listings to numerous job boards in Fargo, ND, or let ATS do it.
Ready for more hiring resources? Let's go! 🙂
How to find job candidates in Fargo?
Discover job posting sites in Fargo, ND. Adding your job postings to numerous local job boards can be helpful. But, don't neglect the power of global job platforms. These can also help you find potential job candidates.
Find more about job fairs in Fargo, ND. Local job expos present a handy occasion for connecting with job seekers. Usually, there are virtual and in-person job fairs available.
Optimize job listings. This is a crucial aspect of the hiring process. So, it's essential to pay attention to optimizing details. Read on to find out more about job posting optimization.
Job Posting Sites For Employers in Fargo, North Dakota
| | |
| --- | --- |
| | |
| | This website allows organizations from the state to post job openings. The job posting price is between $275 and $2,500, depending on the category. Employers may also select the Featured Tag option ($95-$475). |
| | This local job board in Frago offers free job posting options for employers. There is an option for account creation, and all posted jobs are sorted within categories. |
| | This local news website offers a job posting section for employers. Prices start at $99 with various features for hiring needs. |
| | This local job platform caters to employers and job seekers in Fargo. The site offers numerous employment-friendly features, such as job posting, resume browsing, and employer brand services. |
Where to Post Jobs in Fargo?
ZipRecruiter – ZipRecruiter is an online job board that helps employers post jobs and find qualified candidates. The site offers a variety of features and tools to help employers find suitable candidates for their open positions. Also, there is a four-day free trial for employers.
Monster – The Monster job board offers many benefits for employers. With its vast array of features, Monster can help you find the best candidates for your open positions. You can post job openings as well as search the resumes database.
Indeed – With Indeed, employers can post jobs for free. They also have the option to pay to sponsor their jobs, so they appear at the top of search results.
Employment Statistics
The median household income in Fargo, North Dakota, is around $46,311, and the current unemployment rate is 3.6%. The recent job decrease is -1.0%, and the future job growth prediction (next ten years) is 38.7%.
The minimum hourly wage in Fargo, ND, is $7.25.
Fargo Job Posting FAQs
Where can I post my job for free in Fargo?
There are various free job boards out there. Sites such as Indeed, Learn4Good, and Go Fargo Jobs offer free job posting options for employers.
How can I promote my job in Fargo for free?
Use the company's social channels. Leaning on your company's social media is a cost-free method for promoting your job openings. Plus, you get the chance to increase your followers' network and engage with the current one.
What is the job outlook in Fargo?
The recent decrease in Fargo, ND, is -1.0%, but the future job growth prediction in the next ten years is 38.7%. However, employers should keep track of labor market fluctuations and adjust their recruiting to them.
What do job candidates expect from employers in Fargo, North Dakota?
Job candidates want to interact with precisely-written job descriptions that provide straight job requirements and duties.
But, there is another essential detail.
Job seekers want to be a part of a nurtured company culture that values its employees.
So, always take care of your team and core values, and share them with potential new employees.
This is a vital element of every successful company nowadays. Also, it can motivate job seekers to apply and join your company!
Is it hard to find talented job applicants in Fargo, North Dakota?
With the job market expanding, it can be challenging to discover talented job seekers.
Luckily, you can try some things to increase your chances of finding suitable candidates for your company.
For example, building a talent pool is one of them.
This way, you can access numerous potential candidates.
The talent pool contains resumes and contact information for various job seekers, making it easy for employers to find candidates that fit their specific needs.
How long does it take to fill a job in Fargo?
Every company experiences a different hiring duration. That's because every hiring process is unique.
So what can you do to shorten the hiring length?
Lean on an applicant tracking system.
This way, you could automate your hiring cycle and skip sorting out candidates manually within spreadsheets.
This can lead to overall shorter hiring!
Where do small businesses post jobs in Fargo?
Small businesses may face their own set of problems during recruitment.
Small companies might lack the same resources as larger organizations. As a consequence, finding and hiring top talent may be more difficult.
So, we've compiled a list of the following employment websites to assist you!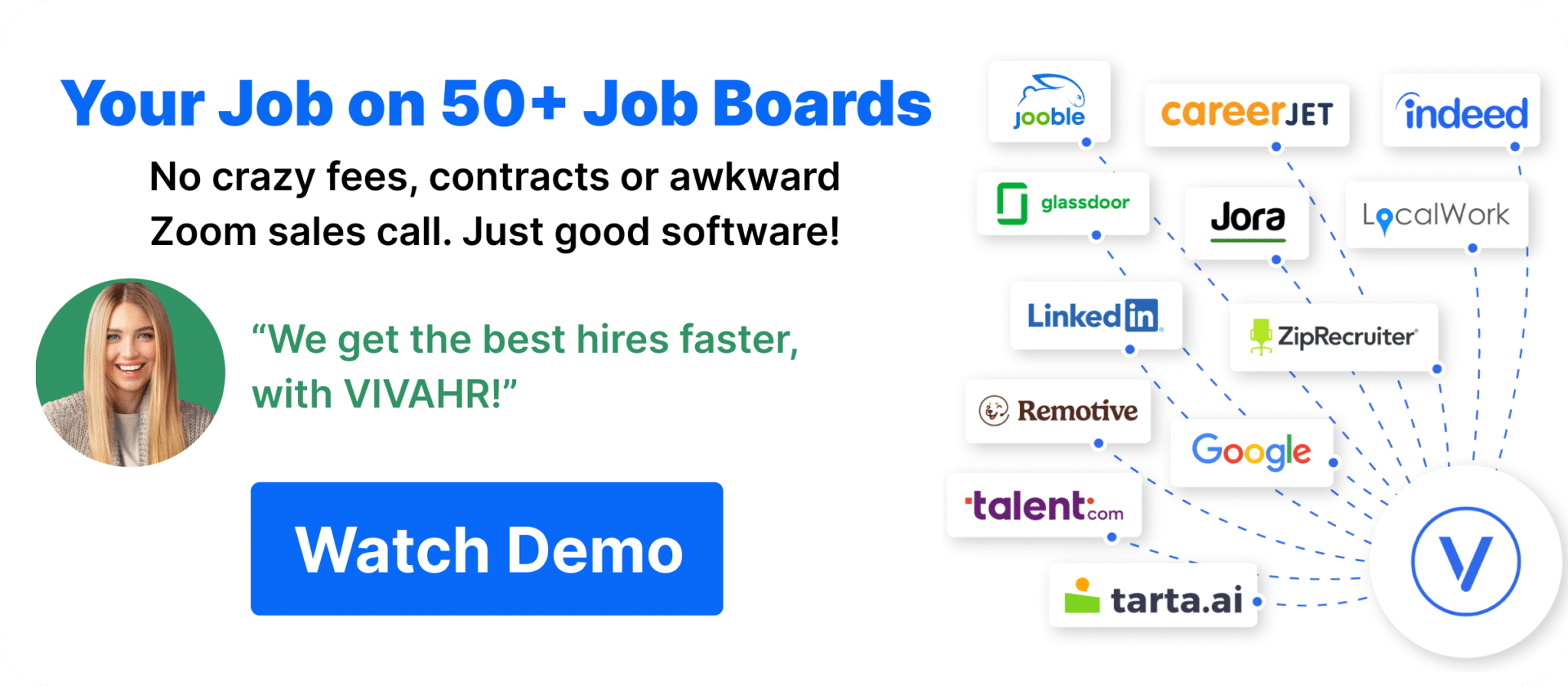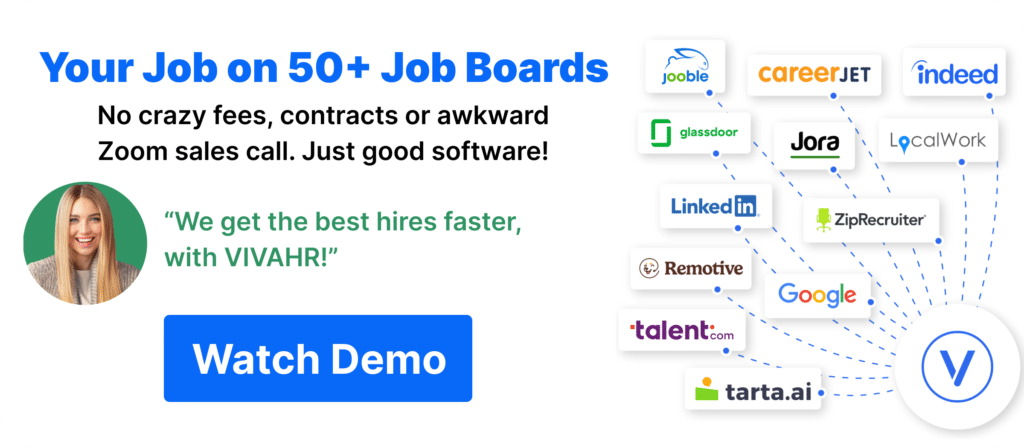 Job Fairs in Fargo
With so many benefits, it's no wonder that employers often find job fairs to be a valuable recruiting tool.
If you're an employer, be sure to take advantage of all the job fairs have to offer!
Here are some of the job expo perks for employers:
Connect with many job seekers at once
Assess a candidate's qualifications and skills in person
Explore job market trends
Connect with passive job seekers
Network with other companies and employers
What Job Fairs are there in Fargo?
If you want to discover more details about job expos within your area, check out the list of the upcoming job fairs in Fargo, ND.
Tips to help a business find and hire employees more efficiently in Fargo
Although every company has its own hiring strategies, having tips for more efficient hiring by your side could come in handy.
So, check out some ideas below!
How to Optimize Your Job Board Posting to Attract Job Candidates in Fargo, North Dakota
Optimizing your job postings is an excellent approach for bringing suitable applicants for open jobs.
So check out some strategies for enhancing and preparing job advertisements for future hiring!
Share the story. Every company has a set of core values and unique company culture. Be sure to share them with job seekers. This can motivate them and convert them into job applicants.
Layout job descriptions. Always design well-written job listings. Use relevant keywords and bulleted lists to enhance job postings. For some inspo, use our FREE 350 Hiring Resource Templates!
Provide straight application details. Let your applicants apply for an open position easily and quickly. For example, you could link from a job posting to your company's Career/Jobs section.
Pick your ATS. Hiring is an exciting journey for every company. But, sometimes, a little assistance is all you need to make the process more efficient.
That's why we designed VIVAHR. Our software can post your job listings to 50+ job boards and attract A-Players for your team!
This means you don't have to rummage through job posting sites in Fargo by yourself anymore.
Discover an easier way to hire and try out simple and affordable hiring software! 🙂
More Regional Job Boards Around North Dakota