Find Job Candidates in Stamford
Want to hire new team members? That's great! Exploring various job boards and free job posting sites in Stamford, Connecticut, can be helpful.
But before proceeding to further, consider one essential step.
Create well-designed job descriptions.
This can help you attract suitable job seekers for your company and increase candidate conversion rates.
Check out the following questions as a starting point!
Are you searching for a seasoned applicant or a newbie for your team?
To excel in this role, what qualities should the ideal candidate possess?
What is the minimum educational qualification you find acceptable for this position?
Asking yourself questions like these can help you discern the exact qualities your business requires from its employees.
By formulating job listings that spell out those desired traits, you will have no trouble finding prospective candidates who possess them!
After you've prepared job listings, post them to numerous job posting sites in Samford, CT, or let ATS do it.
Let's research more hiring resources and find your next team member together! 🙂
How to find job candidates in Stamford?
Discover job boards in Stamford, CT. Many local job platforms can assist you during your hiring journey. But don't neglect the potential of some global job posting sites too. These could be handy assets to your recruitment.
Find more about job fairs in Stamford, CT. Some employers love meeting job seekers in real time. That's where local job fairs come in handy!
Always optimize. Job posting optimization is vital for a successful hiring process. Read on to learn more details today!
Job Posting Sites For Employers in Stamford, Connecticut
| | |
| --- | --- |
| | |
| | If you need a new team member, this website offers two job posting methods that can help. Quick Post lets you post one single ad for either 30 or 14 days, while Post Jobs allows their experts to handle the posting process instantly. |
| | If you're looking for local job seekers, this board is the perfect place to search! It features metro, suburban, and even neighborhood papers with job posting and searching capabilities. |
| | In Connecticut, employers can use this job platform to post job listings for $275-$2,500. Furthermore, the site also offers a Featured Tag option that costs anywhere from $95-$475. |
| | Once registered, employers can benefit from this website's job board to form connections with prospective employees from Connecticut. |
| | Job seekers and employers in Connecticut can use this website, powered by the world-renowned Monster job board. |
Where to Post Jobs in Stamford?
ZipRecruiter – With ZipRecruiter, employers can post job postings on ZipRecruiter's platform and numerous external job websites! Plus, you have access to a four-day trial period.
Monster – The Monster job board is a handy way for employers to find great candidates for open positions. Employers can learn about potential employees by looking through comprehensive profiles and qualifications, allowing them to make more informed decisions about who they should hire.
Indeed – Companies looking to hire can use Indeed's website for free. Furthermore, businesses can also sponsor their posts on Indeed, ensuring maximum reach and visibility.
Employment Statistics
The median household income in Stamford, Connecticut, is $77,221, and the current unemployment rate is 7.8%.
The recent job decrease is -0.3%, and the future job growth prediction (next ten years) is 28.2%.
The minimum hourly wage in Stamford, CT, is $14.00.
Stamford Job Posting FAQs
Where can I post my job for free in Stamford?
Discover the perfect candidate at no cost by publishing your available positions on popular free job boards such as Indeed and Learn4Good.
How can I promote my job in Stamford for free?
Lean on social media. Leverage your company's social media presence to advertise open positions! Not only will this result in potential applications, but you might also find yourself with a few new followers as an added bonus.
What is the job outlook in Stamford?
The recent job decrease in Stamford, Connecticut, is -0.3%.
The estimated job growth prediction is 28.2% in the next ten years.
In an ever-evolving labor market, employers must stay ahead of the curve by refining their recruiting tactics to remain competitive.
What do job candidates expect from employers in Stamford, Connecticut?
Creating a comforting work environment is as essential for employers to cultivate as writing thorough job descriptions.
When employees are content in their current roles, turnover decreases dramatically.
Make your workplace inviting and enjoyable.
This way, workers will be excited to come into the office daily!
Is it hard to find talented job applicants in Stamford, Connecticut?
Attracting new talent can be a challenging process.
However, searching your company's existing pool of candidates is often much less daunting and more efficient.
If there are any job openings in your organization, try this approach.
It may prove to yield the ideal candidate for the position!
How long does it take to fill a job in Stamford?
Finding the perfect candidate can often feel like a never-ending task.
With an applicant tracking system, this process is streamlined and simplified!
ATS automates recruitment components to drastically reduce the time spent on finding candidates.
This leads to more efficient hiring in the long run, so you don't have to worry about being stuck in an endless loop!
Where do small businesses post jobs in Stamford?
If you're searching for new employees, you're not alone.
Several methods of finding suitable candidates that can make your job easier – from utilizing job boards and social media platforms to employer websites.
To start this journey, here's a list of some popular job boards that may be helpful!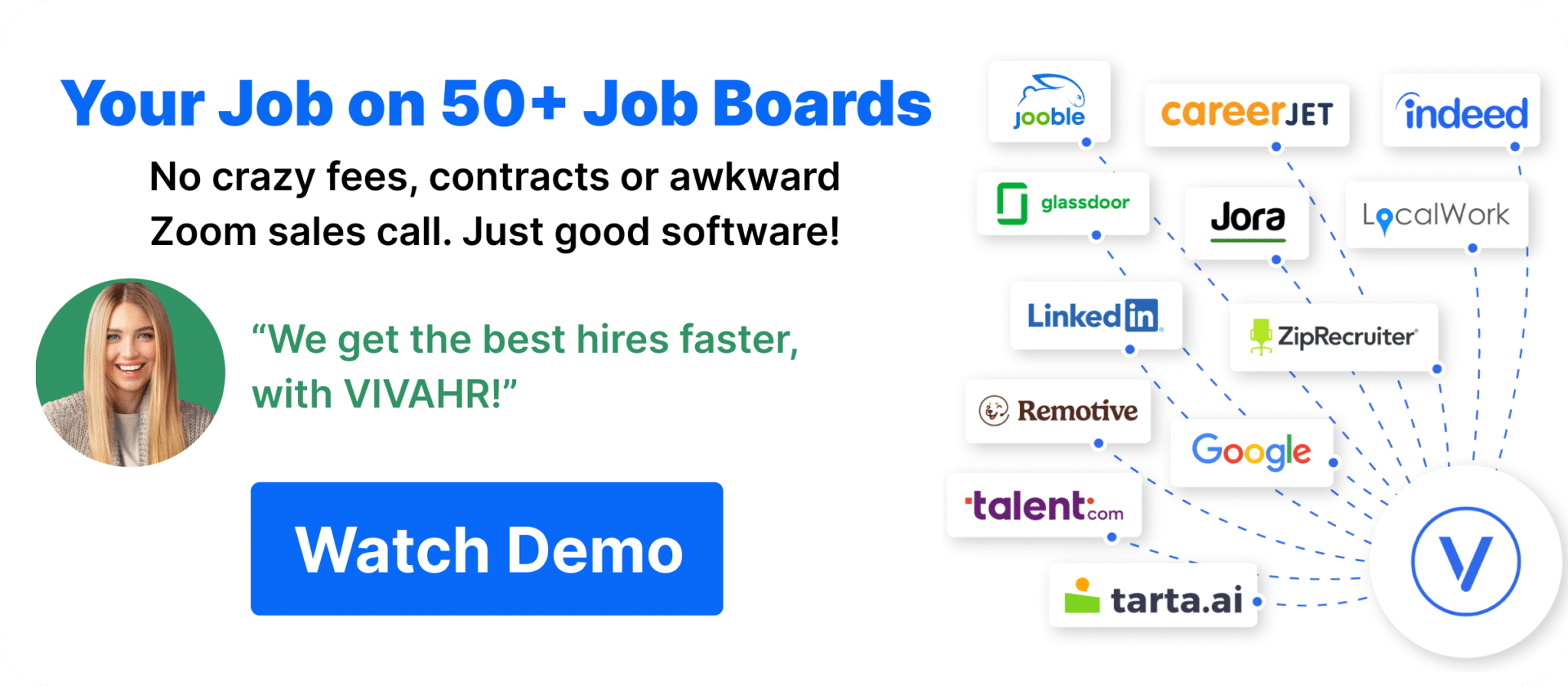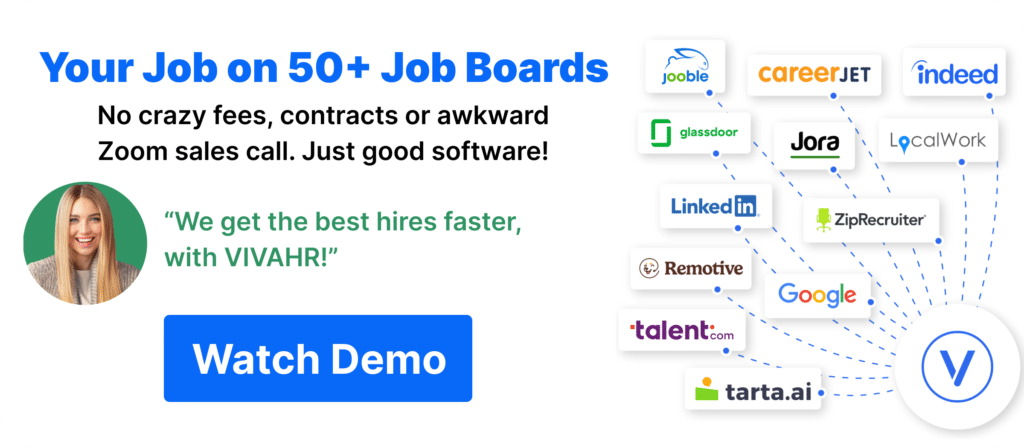 Job Fairs in Stamford
Attending a job fair is an invaluable experience for employers!
Not only will they be able to save time by interviewing multiple candidates simultaneously, but numerous other benefits come with these types of events.
Now, let's explore the several benefits of this more extensively!
Although there may not be any vacancies currently, employers can still reach out to those they believe could contribute to their organization
Job fairs offer employers the unique opportunity to rapidly engage and network with top talent, making the recruitment process more streamlined and effective
Job fairs are a powerful opportunity for employers to meet potential employees, network, and advertise their company's identity in the local region
Job fairs offer businesses an ideal way to link up with recruitment professionals and discuss the roles they need to be filled
What Job Fairs are there in Stamford?
If you're looking for job expos in your area, check out if there are upcoming job fairs in Stamford, CT.
Tips to help a business find and hire employees more efficiently in Stamford
To help you stay ahead of the competition, here are some handy tactics to make your recruiting process more efficient!
How to Optimize Your Job Board Posting to Attract Job Candidates in Stamford, Connecticut
If you're looking for enhanced candidate conversions, it's time for a tune-up!
Try our helpful tips below and make some slight modifications to your job postings.
Focus on culture. Company culture is a decisive factor for job candidates, yet hiring managers usually miss this essential component in their postings. Emphasize the importance of creating and maintaining an ideal workplace environment, and you could draw more suitable applicants to apply!
Add structure. Writing enticing job postings that are easy to read is essential for your search rankings and bringing in suitable applicants. Utilizing keywords pertinent to the posting can help you create a post that will draw numerous candidates. We offer FREE 350 Hiring Resource Templates to assist you with this process!
Provide application info. Crafting straightforward and precise instructions on your Career/Jobs page could streamline the application process for job seekers. While simultaneously lightening the workload of your HR department.
Choose your ATS. Here at VIVAHR, we are passionate about aiding businesses with their hiring process.
We have created a comprehensive applicant tracking system for small to medium-sized companies that can post your job ads on more than 50 job listing sites.
Resulting in you being able to recruit A-Players!
Trying to post job openings on job posting sites in Stamford can be challenging, but you don't have to do it alone.
Rely on us for a more effortless recruiting experience without breaking the bank, thanks to our simple and affordable ATS!
Related Job Posting Sites in Connecticut