Thursday, January 5th, 2023
The labor market continues to be tight and difficult to find employees. There is a strategy, however, to help you find these employees who have the experience and the right fit without breaking the bank. It makes sense to post your job to as many job boards as possible. Free job posting sites allow companies to post jobs for free and get their job visible to job seekers. The best job boards that allow you to post your jobs for free do not require a credit card before posting a job.
However, there are free job posting tools that may allow you to post your job for free, with a valid credit card on a trial basis.
Pro Tip: To access the most free job boards and get your job seen the most, you should consider publishing through an Applicant Tracking System.
This software often already has direct access to top job boards and saves you a tremendous amount of time. With one click you can auto-publish to dozens of job boards and get organic (free) visibility on all their job posting sites.
Free posting sites and free job boards allow employers to post jobs for free to create a win-win environment.  Often times the job board is going to make money on up sales, ads, and data.
The more jobs on their free job board, the better the traffic can be from search engines.  Often times there will be limits to the duration of the free job postings, but free is free, right?  Even if a job posting is free for 7 days, it's much better than the premium fees you may pay on other sites.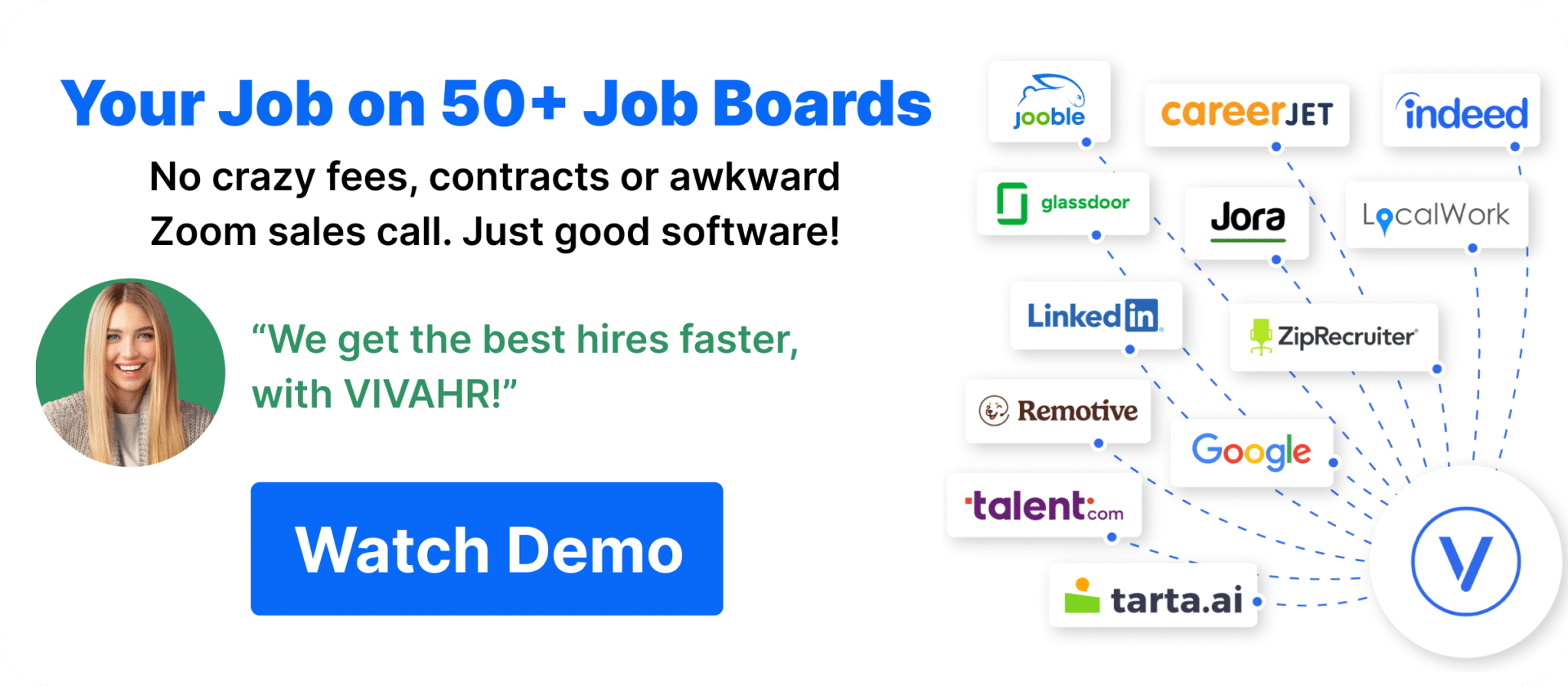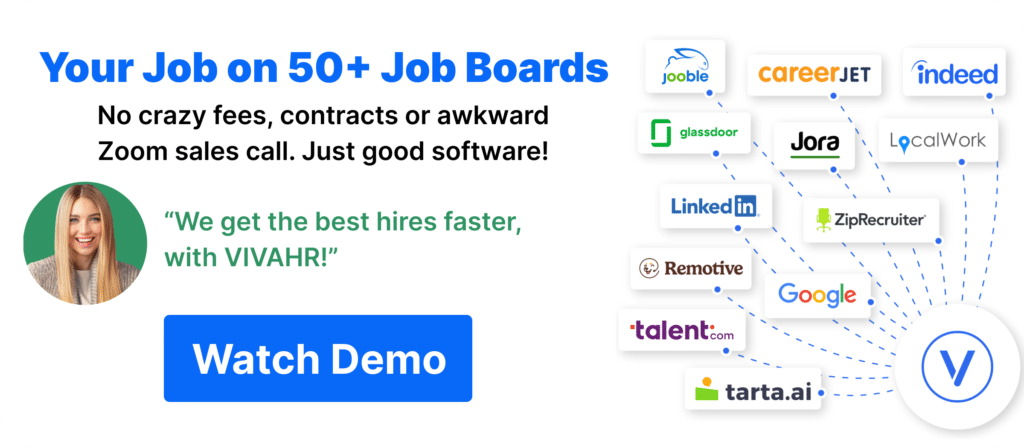 Free Job Posting Sites:
Totally biased…but we had to be, right?  This free ATS gets you unlimited job posting that organically posts to free job boards and brings all the candidates back to one centralized place to track, take notes and collaborate on every candidate.  100% free.
Unlimited job postings
Centralize your resumes
Collaborate with team members on hiring progress
Email & Text candidates from the platform
Integrate a careers page in your website in less than 4 minutes
Get 7-days for free HERE
This posting automation gets your jobs to a handful of free career sites for you.  And…it's free!  You'll see a theme that all these recommendations are for free job boards.
A favorite place to post jobs for VIVAHR's customers.  It is free.  It is easy.  It is a tremendous place to tell your company story and capture candidates who believe in what you are doing and want to be part of your team.
Growing job board in Phoenix.  Has expanded to have a national reputation and strong organic results.  Posting your job on their platform allows you to embed company culture photos, videos and content to tell your hiring story.
Jobvertise
Based in Riverwoods, Il, Employers can search resumes and post jobs for free. Jobseekers can also post their resume and create job alerts at no cost.
JobCase
A social network that also has job postings for the blue-collar industry
Having posted thousands of jobs across many international job boards, Jora is simply the easiest.  Their software is able to display the job information in a format easy for search engines to display in search results.
US.Jobs
This is a free job posting site powered by find.jobs.  They seem to be part of a bigger network of job posting technologies.
FlexJobs
Founded in 2007, promotes itself as the safest place to search for jobs with their hand-screen process for security.  Flexjobs was founded by Sara Sutton and her platform is focused on being the top job posting site for flexible jobs which is stimulating the 'gig economy.'
Postjobfree
One of the original free job boards, it has strong authority for organic search.  Not a name brand destination for job seekers, but their listing will rank well in the search engines.
Yakaz
Classifieds for jobs.  If you don't like Craigslist, you won't like this one.  If you love Craigslist jobs, you'll be satisfied here.
Upwork
Traditionally a place to post Gig jobs.  With the Gig economy taking shape, this needs to be on your list to recruit temporary contract positions.
Jobr
This is a paid job board, but does allow for a free job posting for 7 days.  Might be worth it to get a few free applicants.
AngularJobs
For our tech friends looking for a free technology job board.
This is good if you already have an ATS or a jobs feed.  Their system will import your jobs regularly.
Wisestep
Similar to Upwork, this is good for gig and temp jobs.  Not a place for your FT/PT positions.
Techfetch
Nice job board for the technology industry.  Very loyal audience and offers a free tier.  If you're hiring for a lot of technology-related positions over an extended period of time, this would be a nice competitor to your spend on Dice.
JobSpider
Employment exchange platform built to be similar to a classifieds section.  Not the strongest SEO value, but may be good in smaller less competitive markets.
Career Cast
This is a niche job board network in many of the top industries.  Visit their website and find the best industry board to represent what you're hiring for.  Not all the industry job boards are free, but a few of them are.  Worth the time.
Should have been higher on this list, however, many of our clients are getting frustrated at the increasingly high amount of jobs required to be a pay for play.  It is the number one job search engine.  Can not be ignored and you need to post your jobs here.  Even the paid options is still a bargain.
Jobrapido
Global search engine.  Very powerful place to get your jobs visible.
CareerJet
International free job board with a powerful index.  Nearly 50M jobs posted in their network at any given time.
Where to Post Jobs for Free
Building your job description on free job boards
Often times when employers get ready to post their jobs online, they will do a quick google search for 'job description templates' and copy/paste what someone else has pre-written.  Not a bad strategy, but certainly not good.  Many of the job boards have a feature built into their job posting search results to de-dupe.
This looks for similar postings that may be considered duplicate job postings.  If your template was easy to find, you copied it over and only changed the name of the company, location, and compensation, chances are you'll have a hard time getting found.  Much of recruitment marketing is understanding out job boards work.
To build the best job description, we recommend having four major components
Company Overview – this section is talking about who the company is, why they do what they do.  Give the candidate a real understanding of what your company's sandbox really looks like.
Expectations – Paint a very clear picture of what a day and a life of work will look like.  By connecting with a candidate to give them a sense of what their day will consist of, emotionally connects and gets them more engaged in the opportunity.   In this section, more is always better than less.
Roles and Responsibilities – There is a direct correlation between bullet points in job descriptions and how well they rank on job boards.  The biggest job boards have an algorithm that looks for bullet points.  Make sure you create lists and utilize six or more.
Compensation – Most companies really overlook compensation.  This is a place to shine.  It's not about just the salary or the hourly rate for the employee, it's more than that.  Millennials have demonstrated time and again they care more about culture than compensation.  So give them more than "DOE" or "Will discuss upon interview."  Tell a story about what you as a company are committed to compensating them with.  Leadership training, industry knowledge, licensing, free lunch, incentive bonuses…etc.  The list goes one.  Take the time to talk about more than just dollars.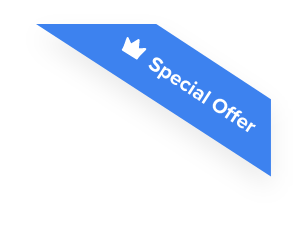 Joshua F.
Redline Electric & Solar

"The best recruiting platform on the market! VIVAHR allowed us to create a dashboard and applicant experience like no other!!"
Get more applicants from the
Best Job Boards
Post for free to 50+ job boards
Unlimited Job Postings
Unlimited Applicants

Top industry job boards to post to
Testing, reporting, and analyzing is key strategy in marketing.  The job posting is just another form of marketing.  It might not be for sales, but have very big impact on the organization.  You should be creating a list of all the major job boards that serve in your industry.  There are literally thousands of job boards.  Many of the job boards VIVAHR submit to are general job boards.
However, finding the right industry-specific job board can be a powerful way to showcase your recruitment brand against competition and steal talent from the competition.  The more niche of an industry you're in, the more valuable industry job boards become.
Using an applicant tracking system to track job posting candidates
Add the tracking URL to every job post.  Most of the job boards will allow you to add an external URL where the applicant can apply.  Be sure to not just give them the exact URL to your apply link, rather, add a UTM tracking to the posting.  VIVAHR has a free job posting tracking tool you can use (no matter which ATS you use, this tool will work).
Simply enter in the apply URL, add in the source (name of job board, department and important hiring info.  This can track traffic from each industry job board to allow you to report against quality of candidate traffic and conversion rates.
Free Job Posting Sites in USA
Getting your jobs on the best job posting sites for employers to get you more applicants couldn't be easier with tools like, VIVAHR.
Why free job posting sites
Job posting websites in the USA come under two different categories.  Most job sites will allow you to begin a trial between 3-14 day trials.  If you're looking for a completely free job posting solution, you'll want to understand any additional restrictions you may have. Some of those restrictions may include limit to number of applicants, how many locations (City, State or Zip) restrictions your job ad may have.
A few alternative options of places to post your jobs for free:
Facebook Groups – Most major cities will have a job posting group already created.  This can be a very active place to share your job opportunities.
Church Groups – Local churches tend to have very strong employment support.  This often includes a modified job board or job posting page on their website.  We have seen several customers have great hiring experiences by calling their top 5 local churches and introducing their company and hiring needs to the employment representative.
Community Colleges / Trade Schools – Many different community colleges have career boards and career support services.  These offices tend to be well connected with students and can be great resources to sending you good candidate volume.

Free Job Boards Vs Paid Job Boards
There are a number of reasons why you'd consider jumping in and paying for a job rather than posting and waiting for the free platforms to deliver.
Predictability
You know you'll be hiring many candidates over a sustained period and you can't wait.  If you're feeling the difficulty of hiring now, and you know there are more open positions coming up, it might be better to jump in and build a bank of candidates to start working through.
Competition
Based on your industry of geographic location, your unemployment rate might be some tight that there is a limited supply of candidates.  You need to think of this as urgency and pay to get the exposure in front of the right audience.
Cost control
Regardless of whether you're using a free job board or a paid one, be sure to use an ATS to track the candidates so you can compare the source of each of those candidates as they come in.  It will not only help you save the time of note-taking, collaborating, but give you better predictability of where to spend your money in the future with paid ads.  Measure, analyze, predict.
Frequently asked questions about free job boards
Can I post jobs for free on craigslist?
In the past you could post all jobs on Craigslist for free.  Over the past few years, they have started charging a fee per posting based on what market you're posting in.  The full list of cities and pricing is located here.
Many of these job posting cities have a fee of $7-75/job/category.  This can add up quite fast since your job post is pushed down daily based on newer job posts.  If I were hiring for a customer service role in Los Angeles, I may want to post this job on a Monday in 2 categories.
That would cost $150 for the day ($75 for category 1 & $75 for category 2.)  If I'm not happy with my candidates by Wednesday, I may have to post again.  Within a couple of weeks, I would be spending a couple of hundred dollars on this one job post.
Are there free job posting sites without registration?
Many of the most aggressive identity theft scams come from fake job postings.  Scammers will falsify a company's information, job posting and collect candidates' information from their resumes and use this info for identity theft.  Because of this, many websites will require you to create an account with some level of job posting verification.
This verification may be a credit card authorization, corporate email verification or sms verification.  Chances are if you are not required to verify your identity to post your jobs, the job board quality is very poor and has a low volume of candidates.
Are there free job sites to search for resumes?
There are no Free Job Posting Websites that also let you search through a resume database for free.  Many sites, including Indeed and Ziprecruiter, will let you search through a global resume database along with a paid plan.
How to manage candidates in a job board for free?
ATS stands for Applicant Tracking System.  Most job boards will include a backend to let you manage your candidates.  Although they are limited to the candidates you receive from that job board, it can be a good place to take notes, collaborate, and keep track of everything.
There are Free ATS options, which will allow you to receive candidates from all the job boards you post to.  This allows you to centralize your note-taking, compare sources based on inbound traffic, skills, hires, as well as create custom scorecards to collaborate with other team members.
How are my jobs found on job boards I didn't post on?
You may start seeing your job posting show up on random job boards.  This is done with web crawlers who may scrape data from competitors and use their job postings to help backfill their own job board.  Previously we discussed the power of job boards having a high volume of job postings to boost their SEO marketing with a depth of content.  Your postings may be included in that web scrape process.
How to connect my ATS XML feed to post to job boards?
When you are working with a new job board to start posting your jobs, ask them if they'll accept an XML feed of your jobs.  This saves you from entering in the same data multiple times, auto included the apply now URL, and makes your life much simpler.  XML feed of job postings is a formatted feed that is categorized and labeled in an industry-accepted format to allow data to transfer automatically between multiple sites.
Are there job posting sites for startups?
There are several job posting sites for startup companies.  The most popular and highest-rated job board for startups is Angelist.com. This platform is fantastic for growing companies to get exposure in front of a tech-savvy audience who may value being a central figure in a startup over a big salary at a larger more established organization.
Why would my job get blocked on a free job site?
Keep track of all your job postings and when you start seeing candidates applying to your open positions.  If you do not see candidates within the first 3-5 days after posting your job, there are four major reasons a free job posting site would block your job from being visible.  If you feel like any of these issues are keeping your posting from being visible, you should reach out to the job posting website:
Quality – Most job boards have a standard of quality for each job posting.   If there is suspicion your job posting is fake, not providing accurate information to their job seeker audience, your job will not be approved.
Duplicate – Job posting websites are very protective of their search results quality.  You'll get your job posting blocked if it is too similar to previously posted jobs.  Ensure your job posting is accurate and authentic to your organization.
Temporary, Contract or Third Party –  Many job boards will only allow job postings from the actual company that is looking to employ the applicant.  Third-party recruiters may have trouble getting free job postings.  If your job is for a temporary opportunity, you may also have trouble getting approval.
Commission Only – There are many job posting websites that will not allow commission-only jobs.  They are looking for W2 salary jobs only.  Be sure to read through the job posting guidelines if your job is failing to load in search results for their job board.
How do I find reviews for free job sites?
There are several software review websites, however, our favorite and highest-quality review websites are software advice, G2 and Capterra.  They use a user-generated approach to collect reviews and request client verification to validate the review is honest and accurate.
On a side note, these websites offer a $10 Amazon or Starbucks compensation for reviews of software you use.  If you are an active user of any software, you may qualify for the gift card promotion for 15 minutes of your time reviewing software you're already using.
How to write a good job description?
Posting your job across the popular job boards will be limited with results if you have a poorly written job description.  There are resources on how to write a good job description that can walk you through the job posting art, to give your company the best chance at having your ideal candidate apply.  Did you know…only 5% of candidates apply to your job posting?
There are ways to boost this number 5x.  Be sure to speak highly of your company culture and your commitment back to the candidate to grow and find success in their career.
Best free job posting sites in the USA
Many of the top job boards offer an international presence, but there are several free job posting sites in USA that are geared heavily towards the job seeker traffic exclusively in the USA.  Follow our list of the best sites and be sure to take advantage of the free job description templates we have created to help you post your jobs better.
Taking your time to post your jobs to niche and local free job sites can be a great way to drive job seekers to your job ads for free or at very little cost.  This list of free job posting sites in Phoenix shows you the power of thinking outside the box when deciding where to get more applicants.  Take advantage of the alumni networks of your local community college who may offer career support to many highly qualified candidates.
Using Social Media to Post Your Jobs
Leveraging your social network and followers can be a great way to drive organic visibility to your ads.  It can be a way your current employee base can easily share these employment announcements with their network.  Facebook now allows your post to your business page to be considered a job post announcement.
With a couple of clicks, you can easily boost this post to your followers and their friends within a close proximity of your location.
Best Job Posting Sites for Employers
Every industry is going to have job posting sites that work better for employers.  Some larger job posting sites which have a global impact and a strong volume of candidates are great to post jobs to, but if you're in a niche that uses unique skill sets, chances are there are job posting sites exclusively for your industry.
If you're a technology company needing some experienced tech talent, you'd want to look at Dice.  A very niched site for tech industry.  Job posting sites for employers can be entirely about which industry you're in.  Take the time to be a secret shopper.  Put yourself in the shoes of a job seeker who would want to find a job with your company.
See which job sites come up with you're looking. The best job posting sites are not always the big job posting sites.
Where can I post a job for free?
The number of Free Online Job Posting Websites for employers is getting lower by the day.  Employers using job posting sites without registration and credit cards are also the sites fraudulent job postings tend to be located.
This surge in fraud with job postings has put pressure on job sites to require credit card registered when posting your jobs for free.  Often times, job posting sites in USA which are free give you the results you pay for.  As an applicant tracking system for small businesses, we highly encourage small business owners to be aware of the lower quality and exposure to your business if attracting candidates off of these sites.
Related Articles: